Slides fra minisymposium Bispebjerg Hospital "Nyeste viden inden for seneforskning - teori og praksis"
8. June 2022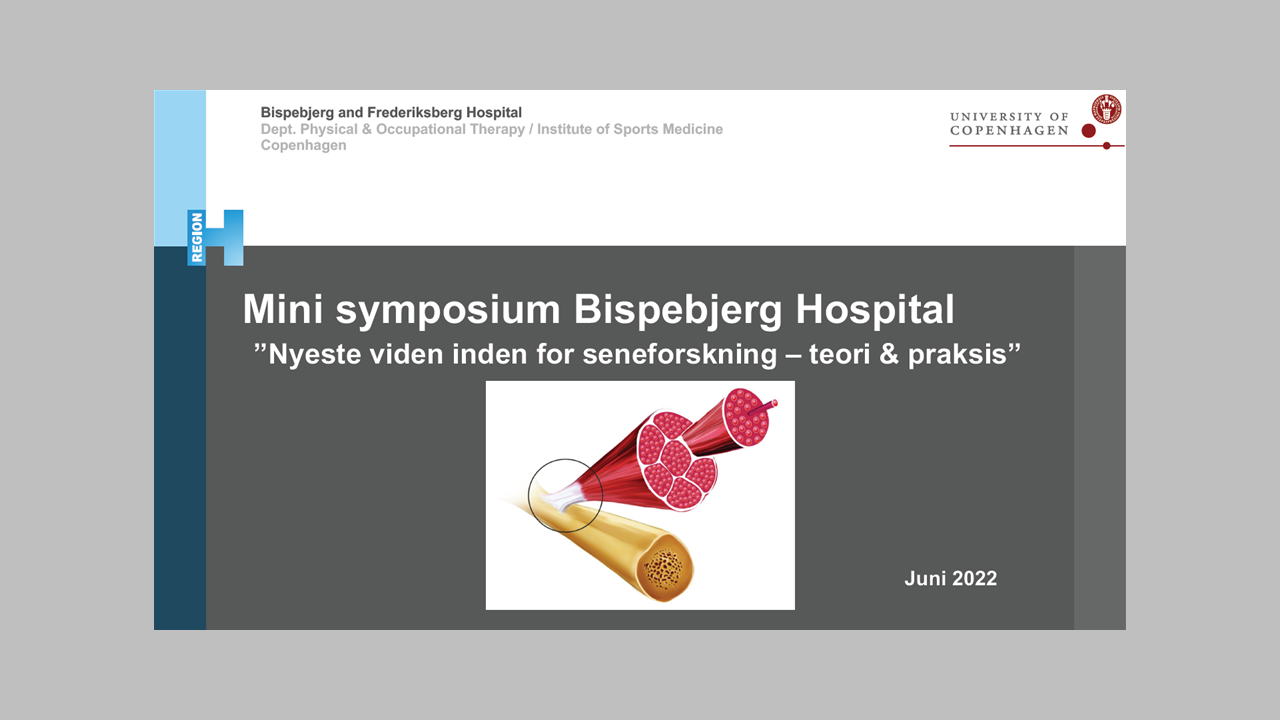 Torsdag den 2. juni 2022 afholdtes "Minisymposium Bispebjerg Hospital 'Nyeste viden inden for seneforskning – teori og praksis'"
Slides fra symposiet kan findes her: Slides fra minisymposium

Slides vil være tilgængelige i 1 måned, og slettes den 8. juli 2022.

Fysioterapiens pjecer om behandling kan findes og downloades her.
Annual Report 2021 is now ready
29. April 2022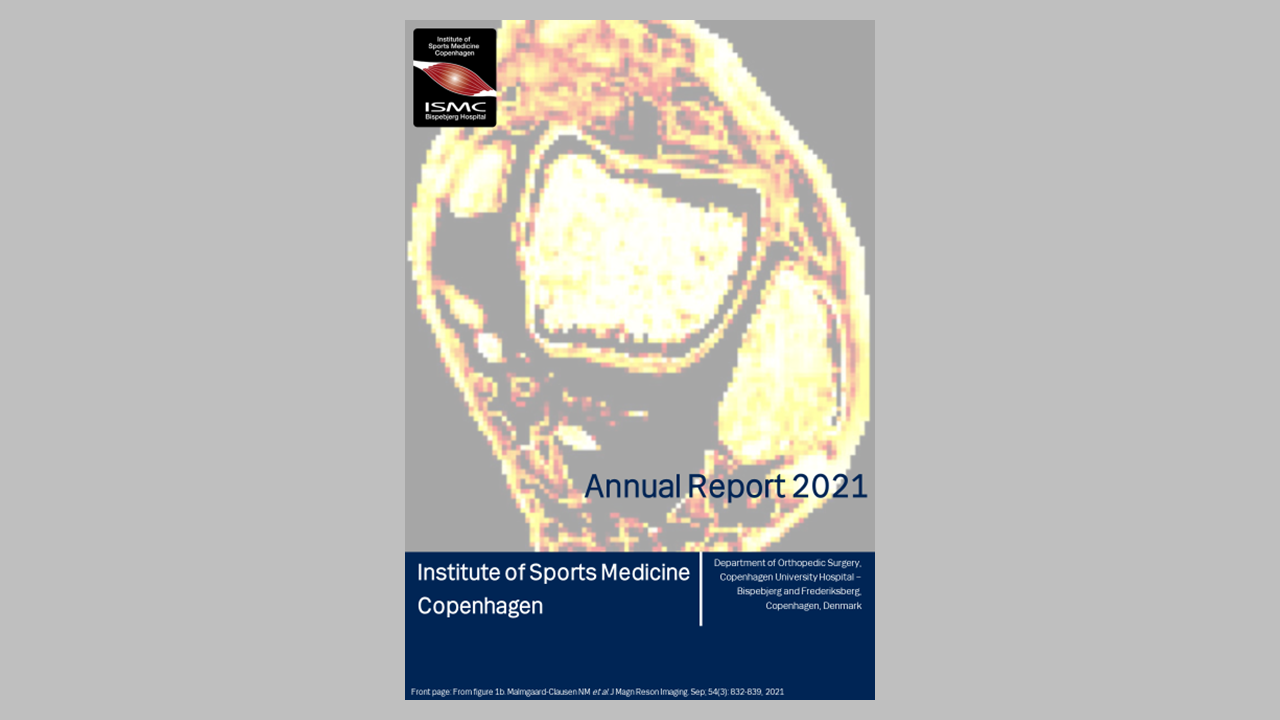 The Annual Report 2021 for ISMC is ready. You can read the report here: Annual Report 2021
New project, Patients 18-55 years with overuse related shoulder symptoms for at least 3 months
29. April 2022

Om projektet:

Patienter mellem 18-55 år med overbelastningsrelaterede skuldersymptomer i minimum 3 måneder.
Man kan ikke deltage hvis:
man tidligere er opereret i et af skulderleddene
har fået korticosteroid injektion indenfor de sidste 12 uger
er klinisk og røntgenologisk diagnosticeret med glenohumeral OA
er klinisk diagnosticeret med primær impingement, reumatoid artrit, periartrose/ frossen skulder

Man skal kunne tale og læse dansk og være villig til at udføre og gennemføre fysisk træning.

Vi vil i et lodtrækningsprojekt med 84 patienter tilbyde 2 forskellige genoptræningsinterventioner i et forløb over 26 uger, hvor alle projektpatienter går til ambulant genoptræning og ses 8 gange individuelt af fysioterapeut. Deltagerne skal før interventionen starter, samt ved 6 uger, 26 uger og 1 års opfølgning, udfylde spørgeskemaer og vil få målt skulderbevægelighed og styrke, få lavet ultralydsskanning mv.

Der rekrutteres patienter til projektet i 2022 og 2024.

Henvises til Idrætsmedicinsk Klinik M81

Ansvarlig for inklusion til projektet: Fysioterapeut og Ph.D, Birgitte Hougs Kjær og overlæge Finn Elkjær Johannsen.

Projektleder Birgitte Hougs Kjær kan kontaktes på 3863 7200 eller birgitte.hougs.kjaer@regionh.dk
Winner of the PhD Cup at Annual Symposium in Snekkersten, Allan Cramer
1. December 2021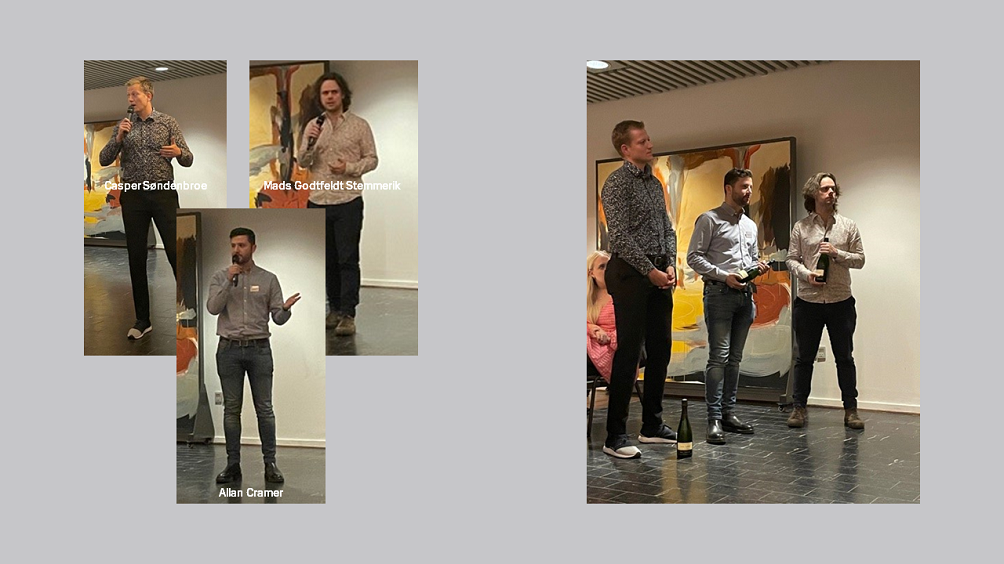 The Annual Symposium for the MUSKOS PhD program in collaboration with the Clinical Academic Groups 'imPAct' and 'ROAD' was held on the 25th and 26th of November in Snekkersten. The Symposium was a big success with a total of 140 participants, with 31 oral presentations from PhD students and 28 poster presentations.
As always the PhD Cup was held during the dinner on Thursday evening, where 3 PhD students had been chosen based on their submitted abstracts. This years participants in the PhD Cup was:
Allan Cramer with the title "Genetic contribution to the etiology of Achilles tendon rupture. A Danish nationwide register study of twins",
Casper Søndenbroe with the abstract title "Satellite cells and denervation indices of the skeletal muscle of elderly lifelong recreational exercisers" and
Mads Godtfeldt Stemmerik with a talk on "An exercise challenge system to profile injury biomarkers in Muscular Dystrophies".


The winner of the PhD Cup was Allan Cramer from Sports Orthopedic Research Center - Copenhagen (SORC-C), Department of Orthopedic Surgery, Hvidovre Hospital. Congratulations.
Men with patella tendinopathy wanted for research project
25. March 2021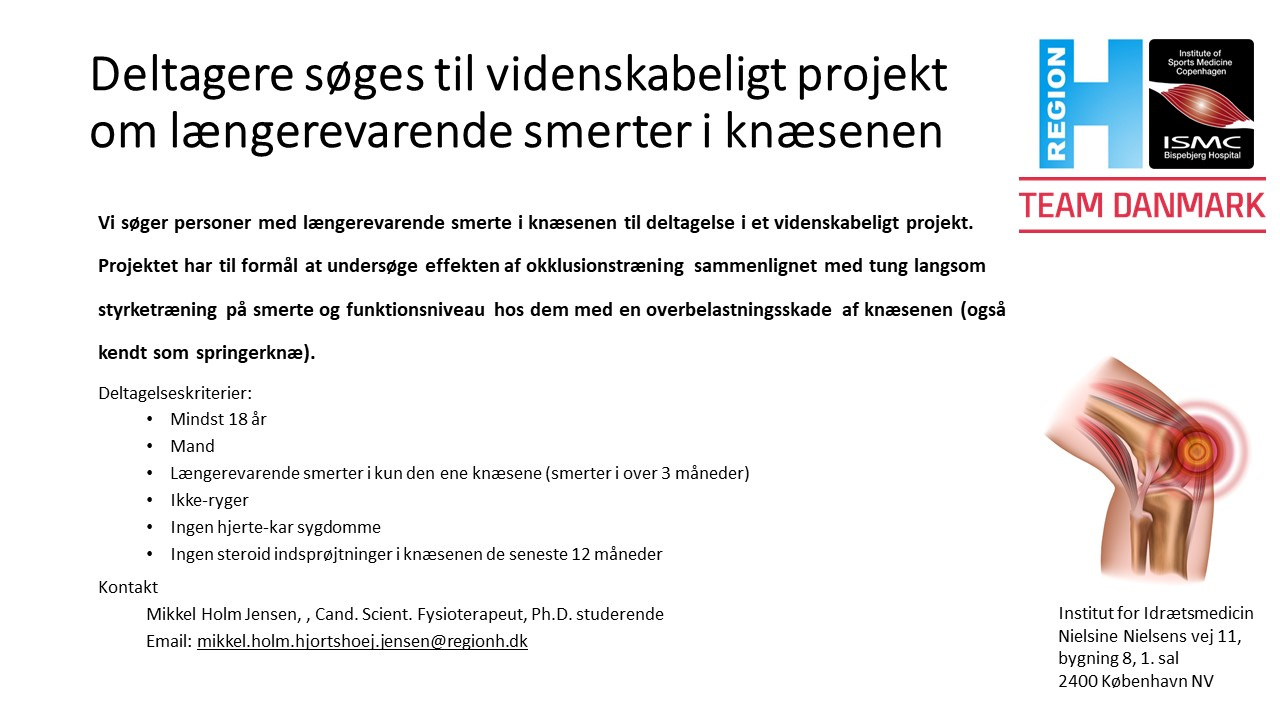 Om forsøget:

Som forsøgsdeltager vil du blive tilfældigt tildelt at træne enten okklusions- eller tung, langsom styrketræning. Forsøget strækker sig over 12 uger med 3 ugentlige træningsgange, hvoraf 1 ugentlig træningsgang vil foregå på Bispebjerg Hospital under supervision af en erfaren idrætsfysioterapeut.
Ved forsøgets start og efter 3, 6, 12 og 52 uger vil du blive indkaldt til en testdag på Bispebjerg Hospital. Testdagen består af MR- og ultralydsskanning, besvarelse af et spørgeskema omkring din knæsene, funktionelle test (ét-bens squat på skråt underlag, måling af muskelstyrke) samt måling af din smertetærskel.
Annual Report 2020 is now ready
12. March 2021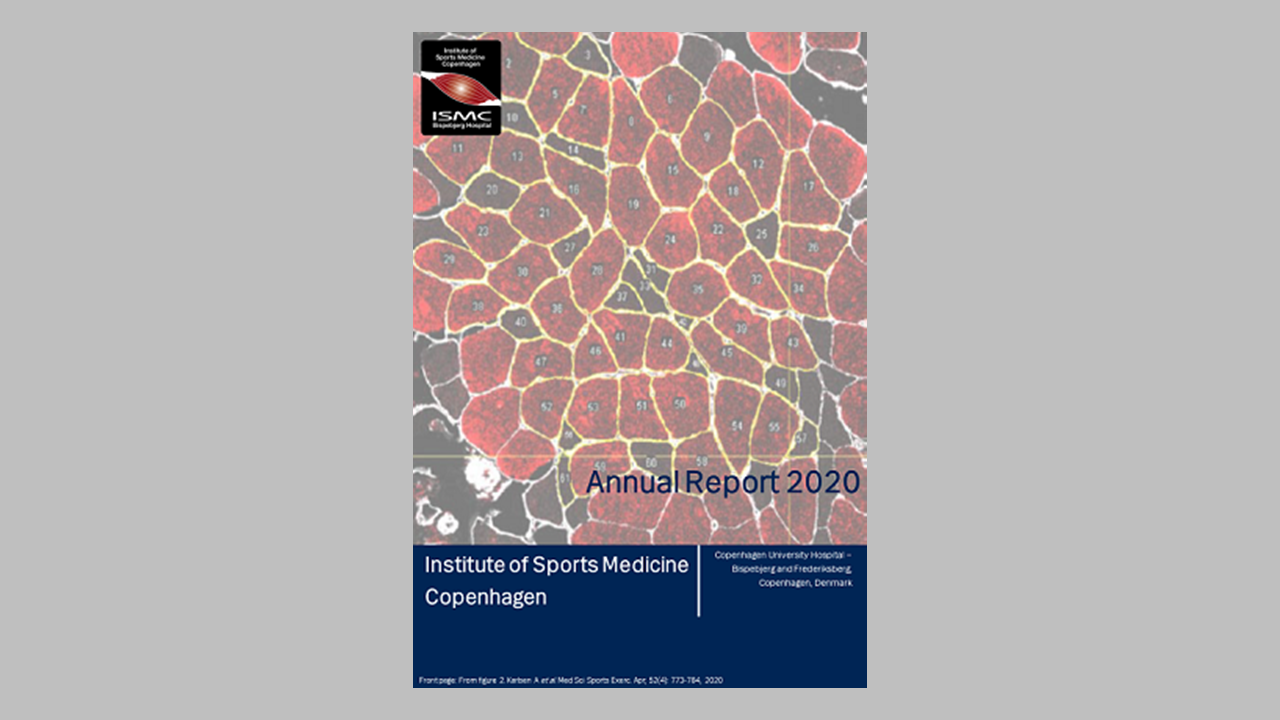 The Annual Report 2020 for ISMC is now ready. You can read the report here: Annual Report 2020
Nyt projekt "Fra arbejdsliv til seniorliv"
12. March 2021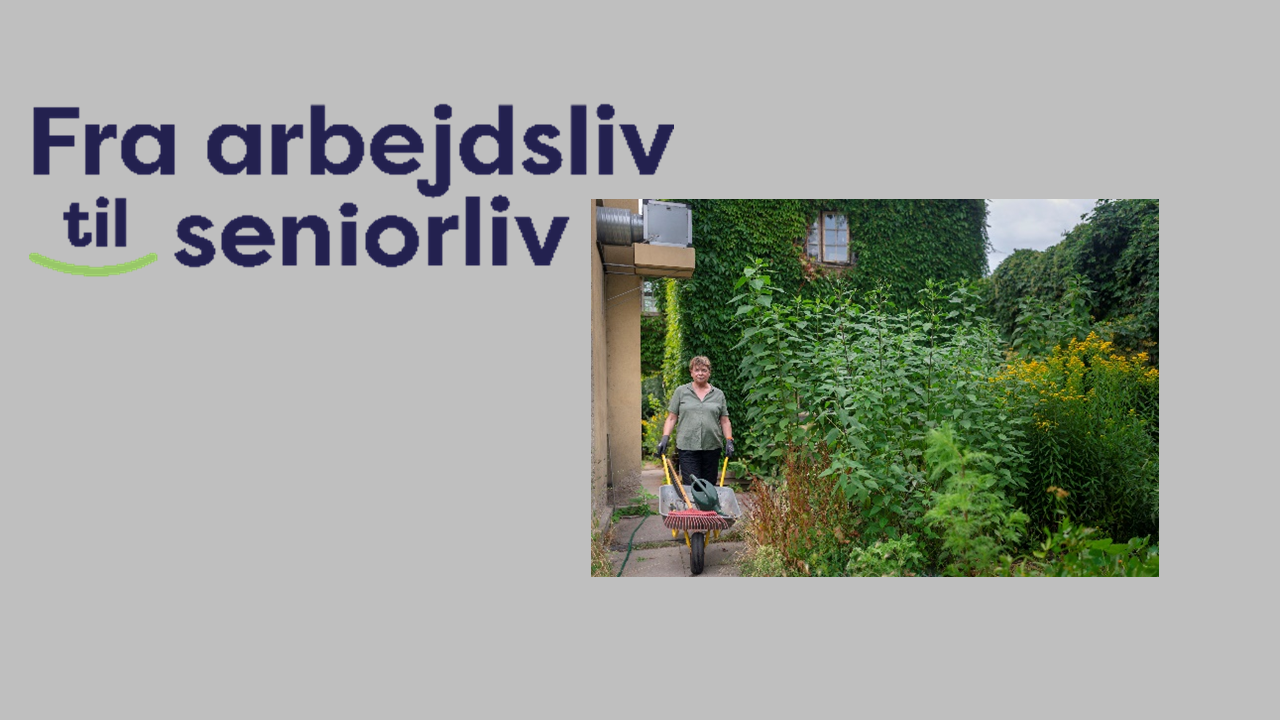 Effekten af fysisk aktivitet på funktionsniveau og mental sundhed hos seniorer

Overgangen fra arbejdsliv til pension kan for nogen betyde mindre fysisk aktivitet. Fysisk inaktivitet i kombination med øget alder har en central rolle i, at risikoen for sygdom og dødelighed hos det enkelte individ er forhøjet. Dernæst vides det, at mere end 50% af voksne mennesker ikke opfylder anbefalingerne for fysisk aktivitet, som er nødvendigt for sygdomsreduktion og funktionsvedligeholdelse. Tværsnitsstudier viser, at muskelmassen og styrken aftager ca. 2% årligt fra 50-års alderen. Denne reduktion er af afgørende betydning for tabet af evnen til at udføre dagligdagsaktiviteter, og dermed forblive selvhjulpen senere i alderdommen. Derfor vil vi i dette udviklingsprojekt udvikle metoder, som kan motivere den enkelte seniorborger til at udøve fysisk aktivitet. Det er tidligere påvist, at fysisk aktivitet er med til at forbedre funktionsniveauet samt flere forskellige mentale karakteristika, så som kognition, depression og det mentale helbred.

Seniorborgere fra Vejle, Århus og Vordingborg kommuner vil blive orienteret om en række forskellige relevante aktiviteter, hvor fokus er på at understøtte fællesskab, bevægelse og oplevelser i det fri – alt sammen noget der skal bidrage til at fremme den mentale og fysiske sundhed. Aktiviteter kan for eksempel tage form af gruppebaserede aktiviteter i naturen (gåklubber eller muskeltræning i det fri), aktiviteter i sports- og aktivitetscentre, og motion på arbejdspladsen. Projektet er primært rettet mod borgere med kort eller ingen uddannelse.

Helt specifikt ønsker vi at undersøge den enkelte seniorborgers funktionsniveau, selvvurderet fysisk og mental sundhed, og tilgangen til fysisk aktivitet. Derudover vil vi undersøge effekten af en given aktivitet på selv samme parametre efter 3, 6 og 12 måneder.

Ovenstående projekt er en del af udviklingsprojektet "Fra Arbejdsliv til seniorliv – forbered dig godt", bestående af forskere tilknyttet Center for Sund Aldring, Københavns Universitet: SAXO instituttet, KU (Lektor Astrid Pernille Jespersen, Lektor Tenna Jensen og Lektor Kamilla Pernille Johansen Nørtoft), og Institut for idrætsmedicin, Bispebjerg Hospital (Postdoc Anne Theil Gylling). I nedenstående links kan du læse mere om det overordnede projekt (CESA) samt projekter fra SAXO instituttet.


Hos Center for Sund Aldring: Fra arbejdsliv til seniorliv - forbered dig godt
Hos Saxo Institutet: Link kommer snarest
Anne-Sofie Agergaard is defending her PhD thesis
9. February 2021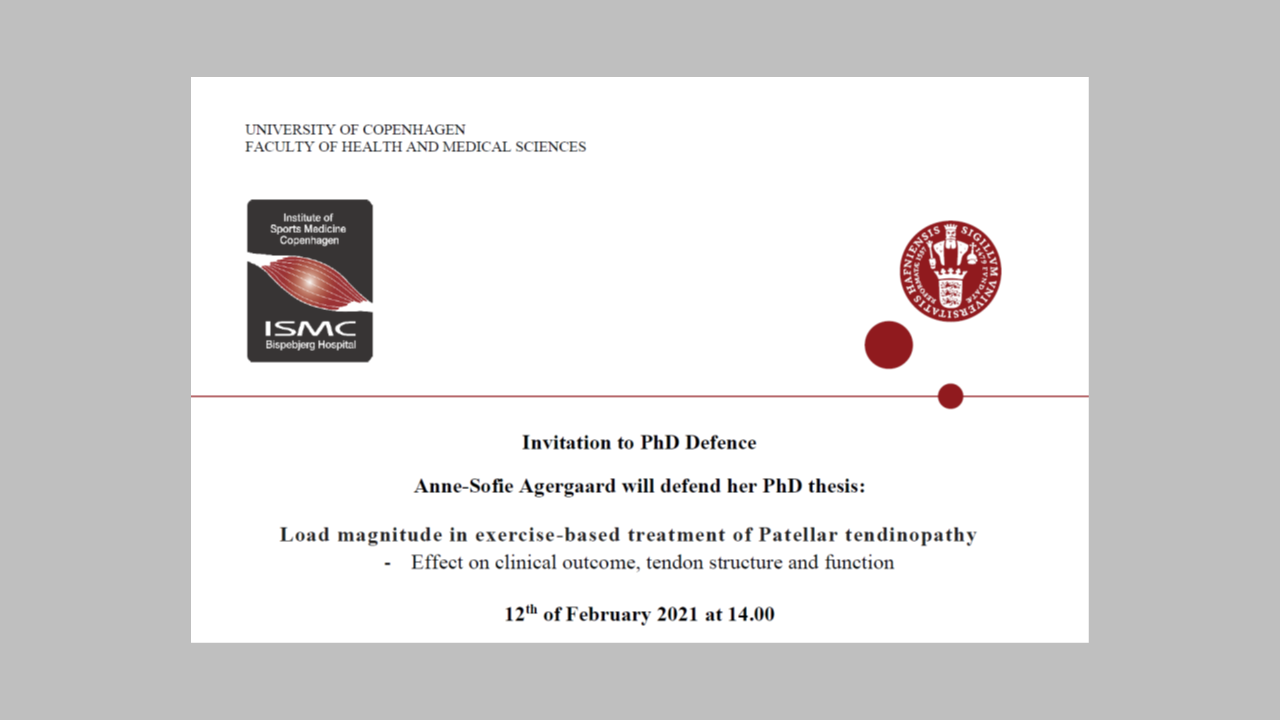 Anne-Sofie Agergaard is defending her PhD thesis titled "Load magnitude in exercise-based treatment of Patellar tendinopathy - Effect on clinical outcome, tendon structure and function" on February 12th 2021.
Due to COVID-19 restrictions only a few people will be allowed to join the defence in person.
Others that are interested can follow the defence online via the link:
https://ucph-ku.zoom.us/j/67611593822?pwd=TGUvNTRpcndzRmk0ZGV0MEpEZDVjQT09
Meeting ID: 676 1159 3822 and password: 280477

Summary
Tendons play an essential role in transmitting force from muscle to bone and are thus designed to resist considerable loads during locomotion. Yet, repetitive use often results in overuse injuries such as tendinopathy, which accounts for 30-50% of all sports related injuries. This type of injury is a substantial clinical challenge, since it often causes long-term (months to years) impairment of function for the affected person. Tendinopathy is characterized by pain during activity, localized tenderness upon palpation, swelling of the tendon and impaired performance. The list of currently available interventions for tendinopathy is extensive. However, loading-based interventions have become the preferred treatment for tendinopathy, although, the optimal dose in regards to number of repetitions and sets, frequency, and load remains unknown. Thus, understanding how tissue structure, function and mechanical behavior in tendinopathic tendons adapt to varying loading configuration, and how this influence the clinical outcome is important and may contribute to optimizing the rehabilitation thereof.
The aim of the thesis was to bridge the gap in knowledge related to the effect of load magnitude on clinical outcome, tendon structure and function in exercise-based treatment of patellar tendinopathy. We conducted a randomized clinical trial on a population of male recreational athletes with chronic patellar tendinopathy. In the trial, we tested the hypothesis of a superior response to a 12-weeks exercise intervention with high load magnitude (90% of 1RM) compared to moderate load magnitude (55% of 1RM) when equalized to total exercise volume. The response was assed at short-term (12 week) and long-term (52 week) follow-up. Secondly, we aimed to investigate the reproducibility of the MRI Ultra-short time to echo (UTE) imaging with the T2* mapping method in tendinopathic tendons. We hypothesized that the method could be applied as a non-invasive marker for early internal tendon tissue material alterations.
The main finding showed, that in contrary to our hypothesis exercising with heavy load (HSR) was not superior to exercising with moderate load (MSR) in relation to clinical outcome, tendon structure and function. Importantly, both HSR and MSR treatment demonstrated clinical improvement after the 12-weeks intervention, which was maintained at one-year follow-up, although it did not reach the same level as asymptomatic tendons. Conversely, the mechanical, material and morphological properties of the tendon were unaltered in response to both HSR and MSR treatment. Finally, MRI UTE imaging with T2* mapping was deemed to be a reproducible method to examine chronic tendinopathic patellar tendons.
In conclusion, when the total exercise volume was kept equal the effect of exercising with heavy load was not superior to moderate load in regards to clinically, structural, or functional improvements. This indicates that either of these loading regimes can be applied during treatment of tendinopathy. Both HSR and MSR yielded clinical improvements that were maintained after one year, although these did not reach normal values. On the mechanical, morphological or material tendon properties, no short-term effects of the interventions were detected. Finally, the MRI UTE-T2* method was shown to be reproducible in patellar tendons with chronic tendinopathy, but the applicability to detect internal material alteration and changes thereof need further investigation.
Future studies are needed to determine the reason for the protracted and incomplete clinical recovery and the lack of response to loading magnitude in mechanical, morphological and material properties. Furthermore, it remains to be established to what extent other factors like restitution time between session influences the clinical, structural and functional outcome.
Nikolaj Mølkjær Malmgaard Clausen is defending his PhD thesis
13. January 2021
Nikolaj Mølkjær Malmgaard Clausen is defending his PhD thesis titled "Characterization and treatment of early phase tendinopathy" on January 15th 2021.
Due to COVID-19 restrictions only a few people will be allowed to join the defence in person, BY INVITATION ONLY.
Others that are interested can follow the defence online via the link:
https://ucph-ku.zoom.us/j/68930121647

Summary
Tendons act as a link between muscle and bone, enabling locomotion of the body, and consist of a highly organized, fibril rich, and dense connective tissue. Its composition and structure allow for high amounts of force transmission and elastic energy storage, but when the cumulative load on the tendon is higher than physiologically tolerable, a cascade of events can lead to the development of clinical overload injury (tendinopathy). The order of these events in development of overuse injury are sparsely described, but it is hypothesized that some features dominate at an early stage of disease whereas others dominate at a more chronic stage. Thus, inflammation has been suggested to be more pronounced at an early rather than a late stage of disease, which suggests that it may be a central part of the cascade leading to the severe structural changes observed in chronic tendinopathy. This implies that antiinflammatory treatment may have a clinical and physiological effect in early-phase tendinopathy. However, the evaluation of physiological effects, especially in early tendinopathy, is somewhat limited by the tools available. Therefore, there has been a great interest in developing tools that can detect subtle changes at an early stage of disease and thus be used to track changes in longitudinal studies on patients. Imaging techniques with its non-invasive nature serve as ideal candidates that allow for repeated measures of the whole tendon in vivo. However, present conventional imaging modalities have some limitations in their ability to detect more subtle pathological changes in tendon. Relatively recently ultra-short time to echo magnetic resonance imaging (UTE MRI) has been introduced in tendon research, and in contrast to conventional MRI these sequences are able to obtain signal even from the healthy tendon. Further, the combination of repeated acquisitions allows extraction of relaxation constants, such as T2* relaxation (UTE T2* mapping). T2* can be considered a measure of structural integrity of the tissue and may be sensitive to subtle changes in early tendinopathy.


The aims of the thesis were to:

Investigate the ability of UTE T2* mapping to detect subtle structural changes in early phase tendinopathy (symptom duration < 3months).
Investigate the clinical and physiological effect of an initial short-term anti-inflammatory treatment with a non-steroidal anti-inflammatory drug (Naproxen), on clinical and selected physiological outcomes (including UTE T2* mapping) in early phase tendinopathy.


First, we evaluated the reproducibility of UTE T2* mapping in tendinopathic tendons and found that UTE T2* mapping is sufficiently reproducible for further investigations in patients with tendinopathy. Secondly, we investigated the difference in T2* between patients with early phase tendinopathy and healthy control subjects and demonstrated a significant difference in T2* between patients with early tendinopathy and healthy controls. Further, findings suggested that changes in T2* may have some moderate functional implications for the tendon. Lastly, we investigated the clinical and physiological effect of 7-days non-steroidal anti-inflammatory treatment added to a standard physical rehabilitation program including load management. And found that a short term NSAID treatment did not exert any additive clinical or physiological effect in early phase tendinopathy. Although the study was not designed to investigate the effect of the physical rehabilitation program the results indicate an improvement in patient symptoms, which occurred in the absence of changes in tendon dimension, vascularization and T2*.


In conclusion UTE T2* mapping is able to detect differences between patients with early phase tendinopathy and healthy controls. But the method was not able to detect changes over time despite clinical improvements. Further, patients with early-phase tendinopathy appear to improve clinically during standard physical rehabilitation, and NSAID does not demonstrate any additive effect to this. Therefore, the general use of NSAID as additive to standard rehabilitation and load management can be questioned. And careful consideration is advocated prior to the use of NSAID in early-phase tendinopathy.


Anne-Sofie Agergaard won the Scientific Talk Competition at Lassen Dagen 2020
10. December 2020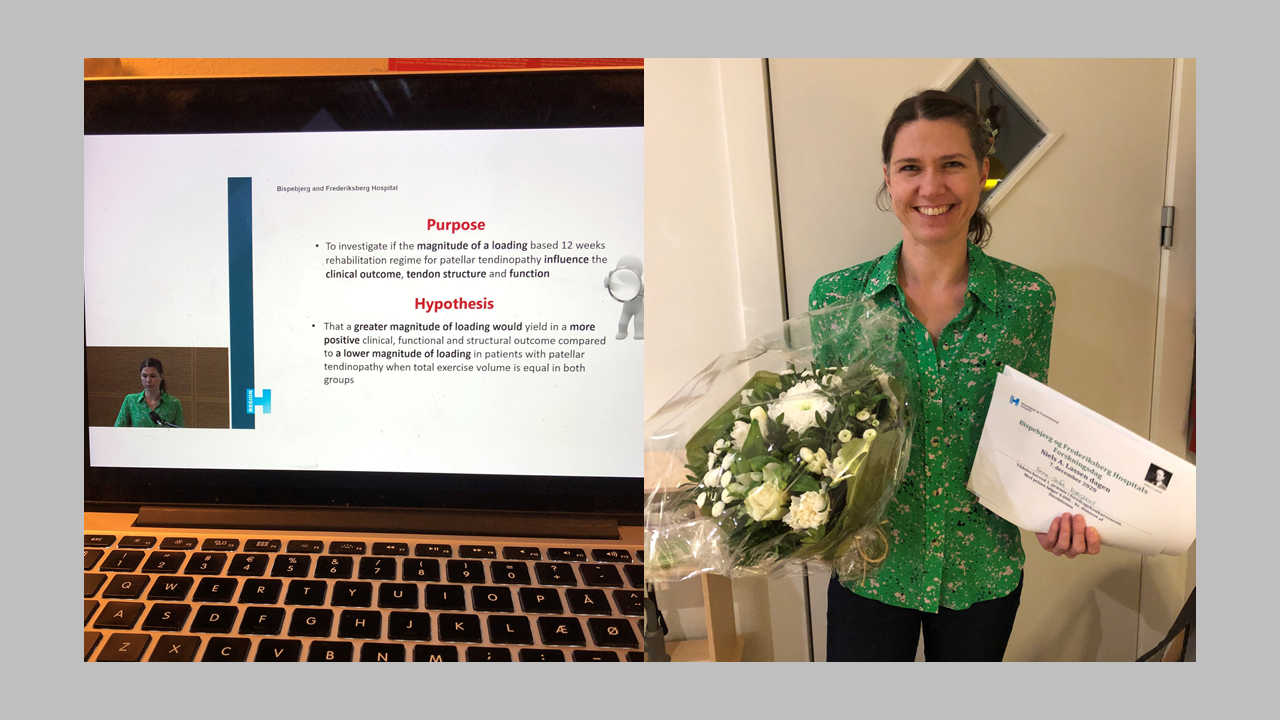 At Lassen Dagen 2020 (the Annual Research Day at Bispebjerg and Frederiksberg Hospital, highlighting the research done at the hospital) ISMC had 2 participants in the Scientific Talk Competition; Anne-Sofie Agergaard with a talk titled "Clinical outcome, structure and function improve with both heavy and moderate load in the treatment of patellar tendinopathy: A Randomized clinical trial" and Kenneth Hudlebusch Mertz with a talk titled "Temporal changes in muscle size and strength in older adults during a one-year center- or home-based resistance training intervention with six months follow-up". Both talks were based on their recently finished PhD Thesis.

The abstracts for the talks - and all other activities of the day - can be found here.

As many other events of 2020, Lassen Dagen was held as a virtual event and all talks were streamed live. The talks can be re-watched here, where Anne-Sofie's presentation can be found at minute 115-123 and Kenneth's presentation can be seen at minute 147-158.
Beside Anne-Sofie and Kenneth's participation ISMC participated with 7 virtual posters in the poster presentation of the day.

To top of the excellent contributions from ISMC, Anne-Sofie Agergaard won the Scientific Talk Competition of 2020. Congratulation on this achievement from ISMC to Anne-Sofie!
Institute of Sports Medicine Copenhagen is number 1 in the world within the field of Sports Science
18. November 2020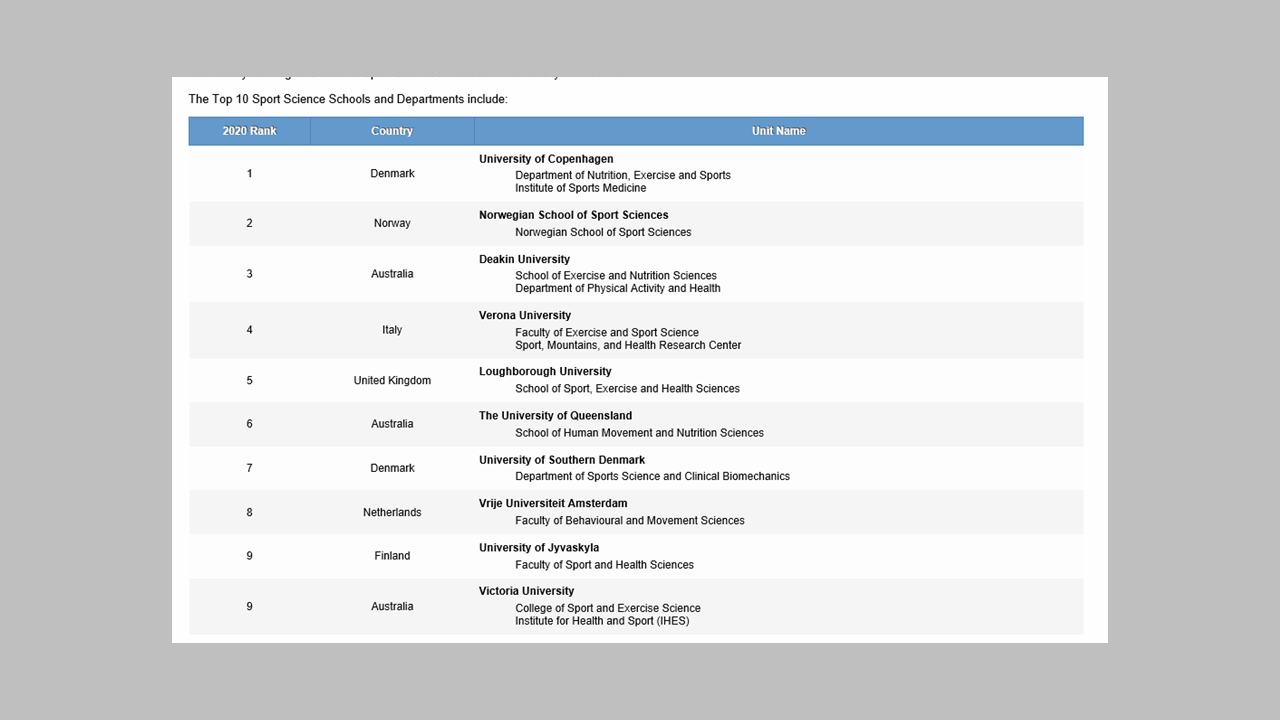 Together with The Department of Nutrition, Exercise and Sports at University of Copenhagen, ISMC has for the 2nd time in a row been ranked the world's best research environment in "Sports Science" on the internationally recognized ShanghaiRanking. The ranking is based on publications for the past 5 years (2015-2019) and is a combined score of 5 criteria:

1 Total number of published scientific papers (weighted 20%)
2 Total number of citations of all papers (weighted 20%)
3 Number of citations per paper (weighted 25%)
4 Number of papers published in the top 25% journals (defined by impact factor) (weighted 25%)
5 Percentage of papers with international collaboration (weighted 10%)

With these criteria in mind it is fair to say that being ranked number 1 on this list means "Not only do we publish many papers - we also publish the best papers", says Head of Institute of Sports Medicine Copenhagen, Professor Michael Kjaer.

You can read more about the ShanghaiRanking, the methods used to calculate the score and see the full ranking list on their website.
Adam Jørgensen is defending his PhD thesis
17. November 2020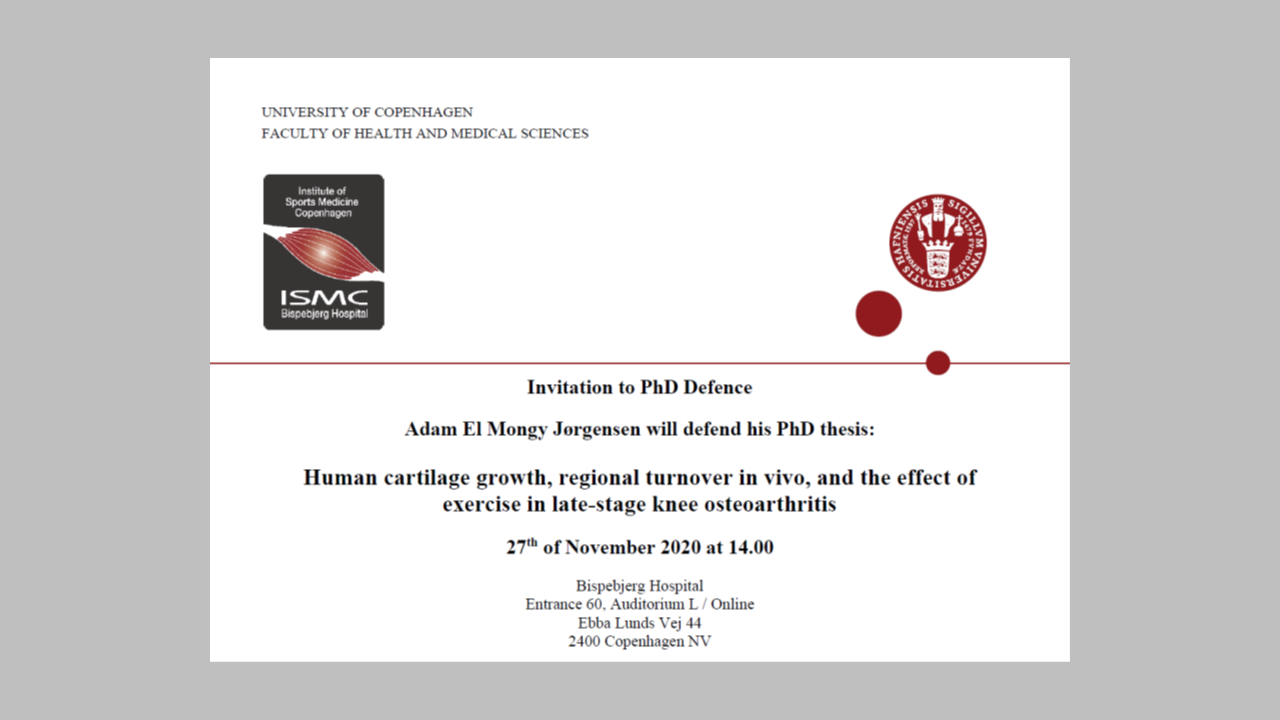 Adam El Mongy Jørgensen is defending his PhD thesis titled "Human cartilage growth, regional turnover in vivo, and the effect of exercise in late-stage knee osteoarthritis" on November 27th 2020.
Due to COVID-19 restrictions only a few people will be allowed to join the defence in person, BY INVITATION ONLY.
Others that are interested can follow the defence online via the link:
https://ucph-ku.zoom.us/j/62128273648
Meeting ID: 621 2827 3648

Background:
Articular cartilage is made for loaded movement of joints, and like other tissues of the musculo-skeletal system, cartilage can adapt to load with hypertrophy or atrophy primary by changing glycosaminoglycan content. Cartilage contains fibrillary collagen type II, which have been reported to have negligible renewability in adulthood. The joint disease osteoarthritis (OA) is characterised by cartilage loss, despite the fact that increased synthesis of aggrecan has been reported. Regarding collagen, the turnover in human OA are unclear, as studies use different techniques, species, and outcomes, yet, increased collagen synthesis is also widely reported. Nonetheless, as the matrix is failing in OA, the increased synthesis is either not reflected in the matrix content or increased breakdown outweighs the synthesis. In OA patients, regular physical activity has shown positive clinical effects upon pain and functional outcomes, but despite this fact, it is unknown how or if physical activity influences the cartilage physiology per se.
Aims:
This thesis aimed at (1) determining if and when a cartilage growth pattern is present and (2) to determine the timing and duration of this growth in regional details. Further, in OA-affected cartilage from humans in vivo the aim (3) to characterise the regional collagen turnover and (4) the regional physiological effect of exercise.
Methods:
Throughout this thesis, human knee cartilage from the tibia plateau was treated enzymatically to examine the stabile/insoluble fibrillary collagen type II. The growth pattern of cartilage collagen was determined using the bomb-pulse method, which relies on the rapid change in the atmospheric 14C levels, and as synthesis of organic material incorporates carbon atoms, the atmospheric levels are then mirrored in the human tissue. The regional turnover was assessed using deuterium oxide (heavy water, D2O) as a tracer, administered orally by weekly boluses of initially 150 ml (70%) and three boluses of 50 ml (70%) in a total of four weeks. Cartilage from the medial tibia plateau/condyle was sampled centrally, under the meniscus, and from peripheral osteophytes, and were analysed for deuteriated alanine (D-ala) incorporation using mass spectrometry. The regional effect of exercise was examined in a randomised controlled trial with acute loading (one-legged leg-press) prior to arthroplasty due to primary knee OA as the intervention. Cartilage from the medial tibia condyle was sampled centrally, under the meniscus, and from peripheral osteophytes, and analysed for chondrocyte gene expression using real-time reverse transcriptase polymerase chain reaction.
Results:
The enzymatic treatment resulted in a matrix containing collagen (~70%) and very low levels of GAGs (~1%). 14C levels were different across each condyle with the oldest collagen centrally, meaning that central areas were made earlier in life compared to peripheral areas. Further, the medial condyle trended to have a concentric pattern towards the periphery (P = 0.056). The average age of cartilage collagen was 11.7 years ranging from 7-16 years, and the medial condyle was made slightly later than the lateral condyle at 11.4 versus 10.3 years. The regional turnover of cartilage collagen matrix was similar centrally and under the meniscus showing D-ala of 0.063 % APE (atomic percent excess). Osteophytes showed higher turnover with D-ala of 0.072% APE. Compared to plasma proteins, the cartilage collagen turnover was lower, suggesting a restricted renewability capacity in late-stage human OA. The turnover in untreated cartilage was D-ala 0.075% APE and higher compared to the enzymatically treated cartilage at D-ala 0.065% APE. Thus, cartilage contains a fraction of proteins with higher turnover. Acute loading increased TGF-β1 by 1.23-fold with no other effects. Regionally, increased expression of MMP-3, MMP-13, IGF-1Ea, and CTGF with a decreased expression of lubricin and COMP was found under the meniscus compared to central cartilage. Further, osteophyte cartilage showed different gene expression pattern compared to the proper articular cartilage with decreased expression of aggrecan, COMP, and FGF-2 with increased MMP-1, MMP-13, TGF-β3, IGF-1Ea expression.
Conclusions:
In conclusion, this thesis demonstrates that apart from osteophyte cartilage, the fibrillary collagen type II is initially made centrally and has very limited turnover in adulthood. Further, in late-stage OA, cartilage collagen has similar turnover despite regional differences in gene expression, and cartilage contains other matrix components with a higher turnover. Finally, in human late-stage OA, acute loading in vivo has minor effects on the cartilage.
Anne Theil Gylling is defending her PhD thesis
10. November 2020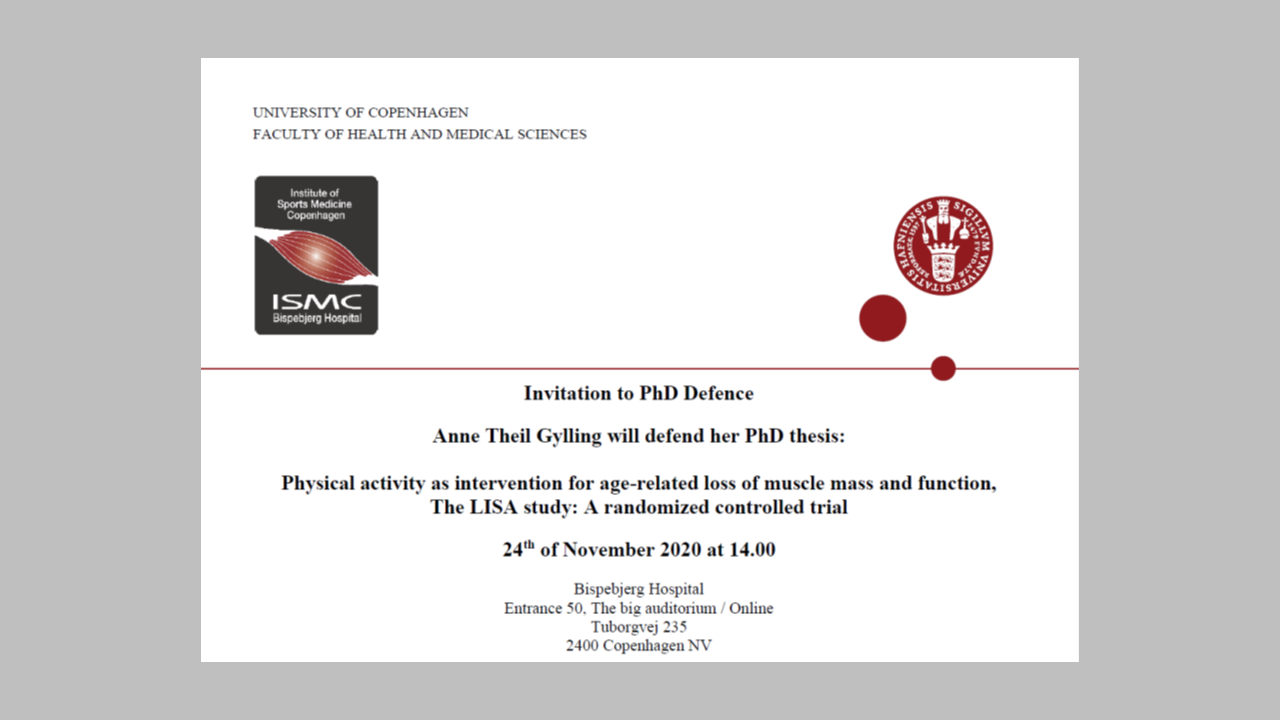 Anne Theil Gylling is defending her PhD thesis titled "Physical activity as intervention for age-related loss of muscle mass and function, the LISA study: A randomized controlled trial" on November 24th 2020.
Due to COVID-19 restrictions limiting the number of spaces in the auditorium you need permission from Anne to participate physically in the defence.
Others that are interested can follow the defence online via the link:
https://ucph-ku.zoom.us/j/66703628546?pwd=d0xqYkcrcGRMakFxME5KSTloNFluZz09
Meeting ID: 667 0362 8546 and password: 123456

Abstract:
Aging is related to a loss of muscle mass, -strength, and -power, and as those parameters are the dominant determinants of physical function, these age-related losses are associated with a decline in physical function. After the age of 60 years, the age-related decreases in muscle function will accelerate. Additionally, there is an age-related loss of both total brain and hippocampus volume, potentially resulting in impaired cognitive function. It has been demonstrated that strength training over a few months can improve physical function, whereas less is known regarding the effects of long-term strength training upon physical function and hippocampus volume. Further, strength training with a relative high resistance intensity is effective to improve muscle strength and physical function, whereas it is more doubtful as to how effective strength training at a more moderate intensity is. Finally, short-term strength training interventions often result in a disappearance of gained physiological effects quickly after termination of supervised training due to discontinuation of training in the individual. It is unknown to what extent more prolonged training interventions can lead to altered daily routines in the individual, and thus a continued training practice and maintained improved physical and cognitive function.
This thesis investigated the effect of 1-year strength training of two different intensities compared with a non-exercising control group upon physical function and hippocampus volume in older adults (Study I). 451 participants (62-70 years, women 61%, ≈80% with a chronic medical disease) were allocated to either a) supervised, heavy resistance training (HRT, n=149, 3/week), b) moderate intensity resistance training (MIT, n=154, 3/week) or c) non-exercise activities (CON, n=148). Of the 451 randomized participants, 419 completed the 1-year assessment battery (HRT 143, MIT 144, and CON 132). Changes in muscle power (primary outcome), -strength and -size, physical function, body composition, hippocampus volume, and physical/mental well-being were analyzed. The results from Study I revealed that of the participants in HRT and MIT, 83% completed training at least 2/week. In all three intervention groups leg extensor power was unchanged. However, strength training had a positive effect on isometric knee extensor strength in both training groups, whereas only one year of heavy resistance training resulted in an increased muscle mass and cross-sectional area of vastus lateralis muscle (CSA), a decreased whole-body fat percentage and visceral fat content, and improved mental health (SF-36). We also observed that the chair-stand performance was improved in all groups, whereas hippocampus volume decreased in all groups over time irrespective of strength training.
In addition, we investigated the maintenance (one year after termination of the strength training intervention) of potential gains in muscle mass, -strength, and -function obtained during the 1-year strength training intervention (Study II). We also explored whether one year of organized strength training was enough to implement physical activity in everyday life and if so whether the maintenance was enhanced if strength training was continued during the follow-up year. Of the 419 men and women who completed the 1-year intervention, 398 participants returned for measurements of muscle power, -strength and -mass, physical function, body composition, hippocampus volume, and physical/mental well-being at a 2-years follow-up. Further, participants from HRT and MIT (n=265) were divided into 1) those who on their own continued the strength training program (10-12 months) during the year after termination of the supervised strength training intervention (CONTIN, n=65) and 2) those who did not (STOP, n=200).
In Study II, we observed that out of all the improvements obtained in response to the 1-year strength training intervention, only isometric knee extensor strength in HRT was partly preserved at 2-years follow-up. Even though muscle strength decreased during follow-up, it was still significantly higher than baseline. Additionally, the decrease in muscle strength over the second year was lower in CONTIN than in STOP and of those two groups only in CONTIN was it still higher at 2-years follow-up compared with baseline. The strength training induced improvement in muscle mass in HRT was erased at 2-years follow-up. However, from baseline to 2-years follow-up, CSA in HRT tended to differ compared with CON as it over time was maintained in HRT and decreased in CON. We also observed that waist circumference decreased further and whole-body fat percentage was maintained over the second year in CONTIN, whereas it increased in STOP. Even though leg extensor power was not affected by the 1-year strength training intervention, we observed that participants in CONTIN in fact improved leg extensor power from baseline to 1-year, which was maintained through the second year. In conclusion, this thesis indicates that strength training in both healthy and chronically diseased older adults can be implemented with good compliance, inducing consistent changes in physiological parameters of muscle and fat, and this to a higher degree with heavy resistance training. Only isometric knee extensor strength was preserved one year after completion of the supervised heavy (but not moderate intensity) resistance training. In addition, the continuation of strength training in the follow-up period resulted in better maintenance of muscle strength and health, which indicates that continued activity is essential for obtaining long-term effects of strength training upon muscle function and health in older men and women.
New round of clinical courses for 2021 is now open for registration
30. October 2020
A new round of clinical 1-day courses has now been planned for 2021. Find more about the courses, their content and how to sign up on Clinical Courses.
Cheng Zhang PhD Defence
28. October 2020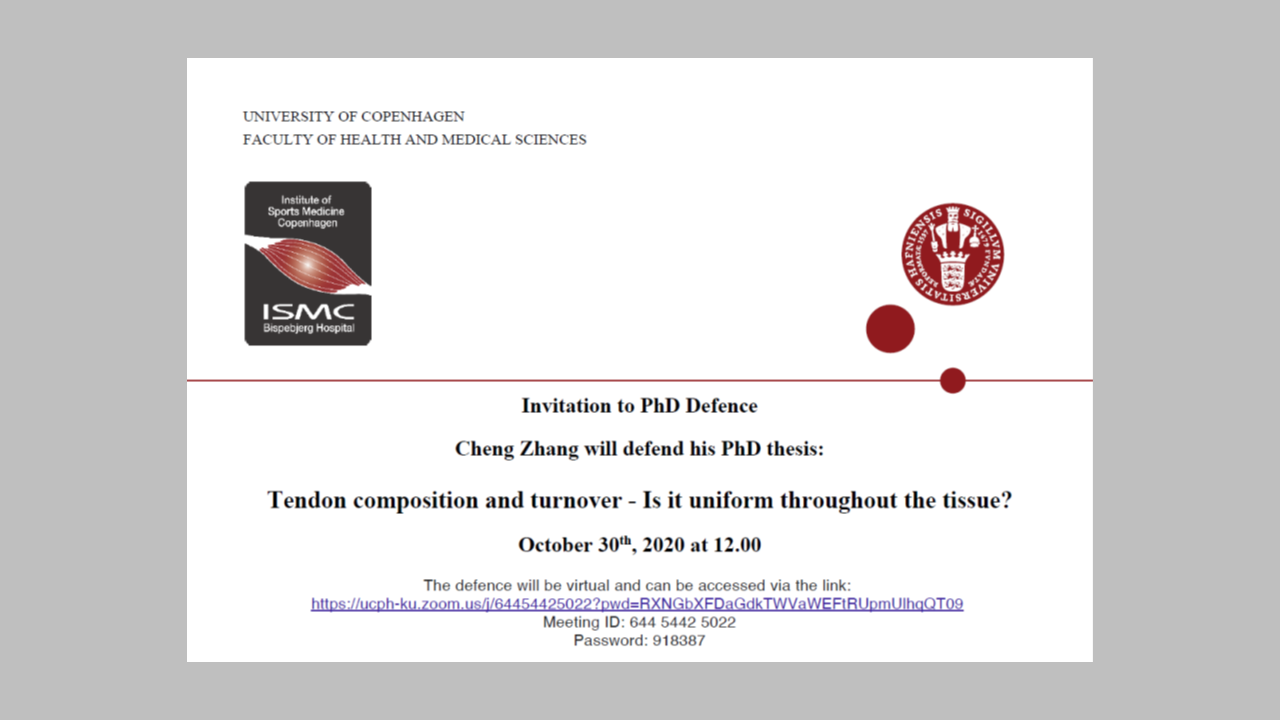 Cheng Zhang is defending his PhD thesis titled "Tendon composition and turnover - Is it uniform throughout the tissue?" on Friday October 30th 2020.
The defence will be virtual and can be accessed via the link:
https://ucph-ku.zoom.us/j/64454425022?pwd=RXNGbXFDaGdkTWVaWEFtRUpmUlhqQT09
Meeting ID: 644 5442 5022 and password: 918387
Abstract:
The turnover of tendon tissue is thought to be very limited, but tendon can still grow in response to loading and to some extent renew after injuries, a conflict that remains to be investigated. In addition, tendon injuries normally occur in specific regions, which may relate to the mechanical properties, tendon composition, cell populations or tendon turnover, but the exact reason remains unknown. Tendon consists mainly of collagen with a smaller amount of glycosaminoglycan (GAG) and contains relatively few cells. It is difficult to measure tendon turnover in vivo, therefore animal models and human tissue were used to do the research in vitro. One method for measuring turnover is 14C bomb-pulse dating, which can be considered a gold standard but requires that subjects were born around the time of nuclear tests in the 1950s. Animal models are typically too young for the 14C method but previous studies have shown that advanced glycation end-products (AGEs) accumulate linearly with age, which can therefore be used as an indirect marker. AGEs can be measured indirectly by autofluorescence or directly by massspectrometry. The aim of this PhD study was to investigate the regional differences of tendon turnover, and the potentially related mechanisms. In our first study, the deep digital flexor tendon of lean and diabetic Göttingen minipigs was investigated. Biochemical tests (such as AGE accumulation, collagen contents, DNA content and GAG content) and mechanical tests were performed to investigate the properties in different parts (longitudinal and radial) of the tendon. The result of the AGE measurements showed that autofluorescence was greater in the proximal than the distal part in both the lean control and diabetic groups. Moreover, in the lean control group AGE accumulation was also greater in the core than the periphery of the tendon. These findings indicate that tendon turnover varies between different regions. The second study was performed on human patellar tendon, which is more clinically relevant and enables a more direct measurement of turnover with the 14C method. Similar to the previous study, the tendon was divided into different regions and biochemical measurements (AGE accumulation, collagen content, DNA contents and GAG content) were performed. In addition, a number of specific AGEs were measured and the 14C method was used to directly determine the collagen turnover. The 14C results showed that all regions of human patellar tendon had similar collagen turnover, and this turnover occurred during the first 15 years of the person's life. Fluorescence results and specific AGEs also did not differ between regions. All in all, the results showed that different regions of human patellar tendon had similar collagen turnover. The first study had indicated differences in cellularity and turnover between the tendon core and periphery. The third study was therefore a cell culture study of regional differences. In this study, equine superficial digital flexor tendons (SDFT) were used. Tenocytes were derived from the tendon core and periphery, the proliferation capacity was determined by growth curve assay and matrix protein production was characterized by histological staining and proteomics. Cell cultures from the two regions exhibited similar proliferation rates and very similar proteome profiles, but showed biological variation in collagen type I deposition. To conclude, the regional differences in turnover of different species varied, indicating that there is no consistent pattern of growth or renewal. In particular, no region of human patellar tendon appeared to turn over after skeletal maturity.
Kenneth Mertz PhD Defence
1. October 2020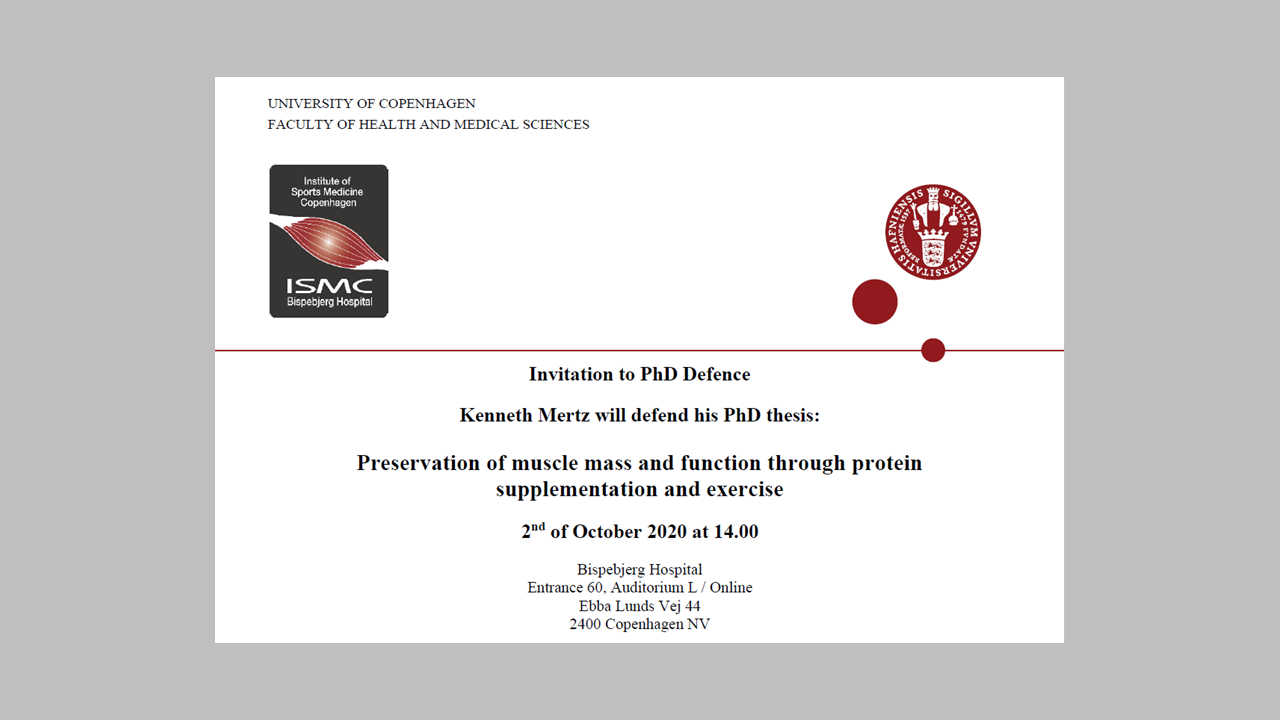 Kenneth Mertz is defending his PhD thesis titled "Preservation of muscle mass and function through protein supplementation and exercise" on Friday October 2nd 2020.
Due to COVID-19 restrictions only a few people will be allowed to join the defence in person, by invitation only, whereas others will be offered a link to digital participation in the defence.
Abstract:
Muscle mass, strength, and power begins to decline around the 5th decade of life, increasing the risk of developing functional limitations with increasing age. These age-related declines are caused by a complex nexus of biological alterations in hormonal milieu, inflammation, neural function, tendon function etc. While this development is likely inevitable, strategies for counteracting these declines are of great interest, in order to maintain physical function of older adults for as long as possible. The absolute levels of muscle mass, strength, and power has been shown numerous times to be predictive of current as well as future functional capabilities of older adults. However, limited research has looked into the impact of between-limb asymmetry in these parameters on functional capabilities. In paper 1, we investigated the prevalence of between-limb asymmetry in measures of lower extremity muscle mass, strength and power, as well as its association to functional capabilities in a cohort of healthy older adults. We found that the average degree of between-limb asymmetry in measures of muscle strength and power was ~10%, whereas the asymmetry in leg muscle mass was ~3%. However, measures of between-limb asymmetry in muscle mass, strength, and power were not consistently associated with functional capabilities. In contrast, the absolute levels of muscle mass, strength, and power showed moderate to strong association to functional capabilities. Based on this, we concluded that interventions aiming to improve or maintain functional capabilities of healthy older adults should focus on increasing muscle mass, strength and power, whereas the effects of reducing between-limb asymmetry seem of less importance. In order to best possibly maintain muscle mass, it has been suggested that older adults need more a higher dietary protein intake than what is currently recommended. A potential strategy for counteracting age-related loss of muscle mass, could therefore be protein supplementation. Heavy resistance training is known to be effective in increasing muscle mass, strength, and function in older adults. However, many older adults do not enjoy this training modality, and thus long-term adherence to training might be limited. Research into the effectiveness of alternative training modalities are therefore of interest. In paper 2, we therefore investigated the effects of protein supplementation alone as well as combined with either heavy resistance training or light intensity, home-based resistance training for 1 year in healthy older adults. We found that protein supplementation alone was not associated with any benefits in relation to preserving muscle mass, strength, or function. As expected, the addition of heavy resistance training increased isometric muscle strength and was associated with a better preservation of quadriceps cross-sectional area compared to protein supplementation alone. Despite a high adherence to training, light-intensity, home-based resistance training did not provide any benefits compared to protein supplementation alone. In paper 3, we investigated the temporal changes in muscle mass, strength and function during and after the 1-year training intervention. We found that while both heavy resistance training and light intensity, home-based training were capable of increasing muscle strength during the initial 6 months of training, only heavy resistance training were capable of inducing further increases in muscle strength during the last 6 months of training. Furthermore, 6 months after the intervention, the heavy resistance training was associated with higher strength and rate of force development than protein supplementation alone, whereas light intensity, home-based training did not provide this benefit. In conclusion, the findings do not indicate that protein supplementation alone is a beneficial strategy for counteracting age-related loss of muscle mass, strength, or function in healthy older adults. The addition of light intensity, home-based training was not an effective long-term training strategy, although it provided some increases in muscle strength during the first 6 months of training. Adding heavy resistance training to protein supplementation was the most beneficial long-term strategy, and thus it is suggested that future research and innovation efforts aim to investigate how to increase participation of older adults for this training modality.
New Team Danmark Network
7. September 2020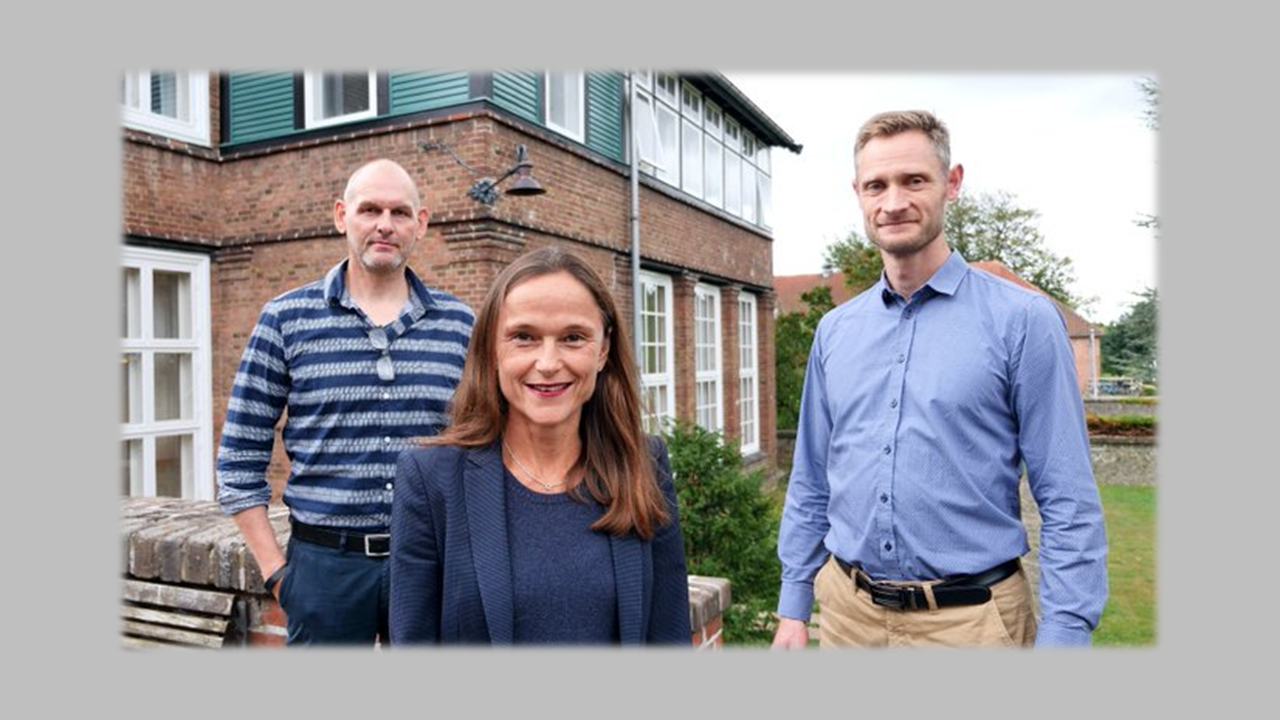 The new network "Diagnostik og behandling af skader og sygdom hos atleter" (Diagnostic and treatment of injuries and diseases in athletes) has now been official opened and the work is already on the go. The network has been realized with the support of Team Danmark who funded the network with 11 million DKK from a donation they received from the Novo Nordisk Foundation. The network is situated at Bispebjerg Hospital with ISMC Senior Researcher Jesper Løvind Andersen as network leader.
The network is collaboration of 6 groups lead by Professor Michael Kjaer (ISMC), Professor Peter Magnusson (ISMC), Chief Physician Hanne Rasmusen (Hjerteafdeling Y, Bispebjerg Hospital), Chief Physician Lars Pedersen (Lungemedicinsk Afdeling, Bispebjerg Hospital), Professor Carl-Johan Boraxbekk (The Danish Research Centre for Magnetic Resonance (DRCMR), Hvidovre Hospital) and Docent Mette Kreutzfeldt Zebis (Dept. of Midwifery, Physiotherapy, Occupation Therapy and Psychomotor Therapy, University College Copenhagen).
The network involves the 6 clinical disciplines of acute and chronical injuries, brain and neuropsychology, cardiology, respiration and lung function, motor control and function and rehabilitation. The goal is to create a center where athletes have only one entrance to treatment of their injuries independent of injury type and where research runs parallel to the athlete's treatment.
On the picture is seen (from left to right) Jesper Løvind Andersen (network leader, ISMC), Kirsten Wisborg (Deputy Director, Bispebjerg Hospital), Lars Holm (Head of Research, Team Danmark)
Provisional program for Snekkersten 2020
10. August 2020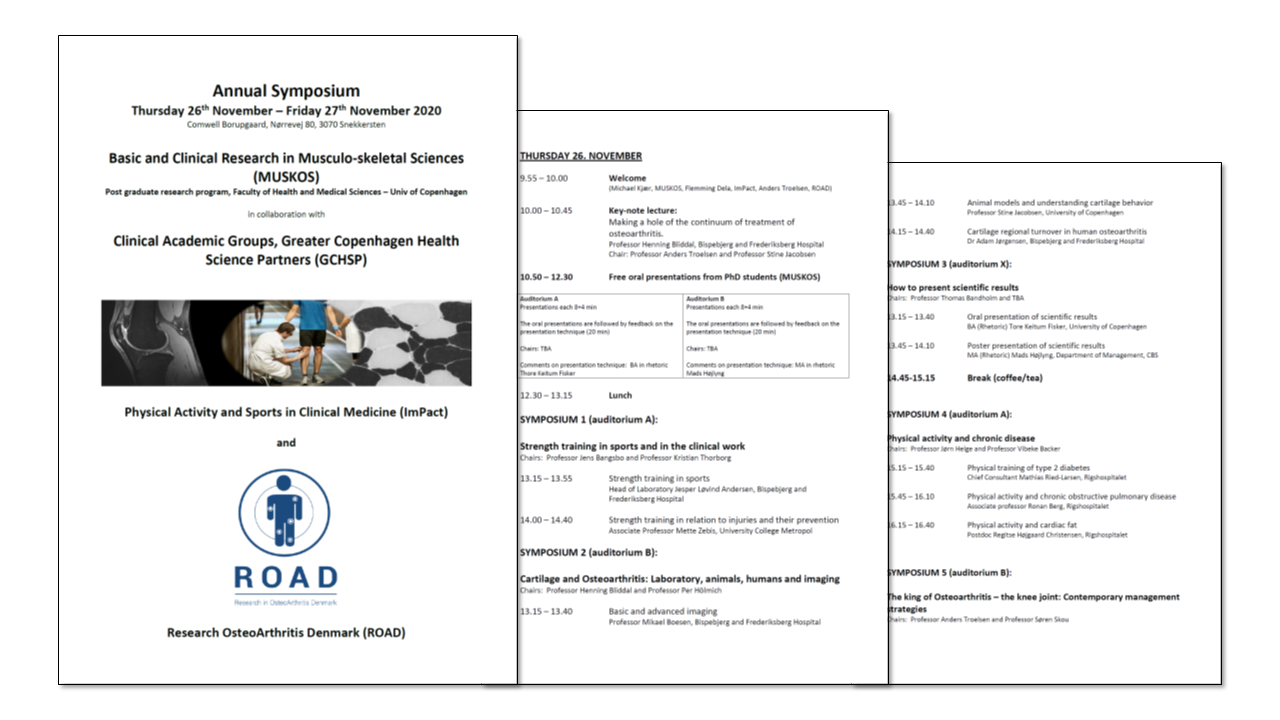 The provisional program for the Annual Symposium 2020 in Snekkersten is now available in the "Symposium" menu. Here you can also sign up to participate.
This year the symposium is held as a collaboration between MUSKOS and the two CAG's "imPact" and "ROAD".
Jacob Bülow PhD Defense
11. June 2020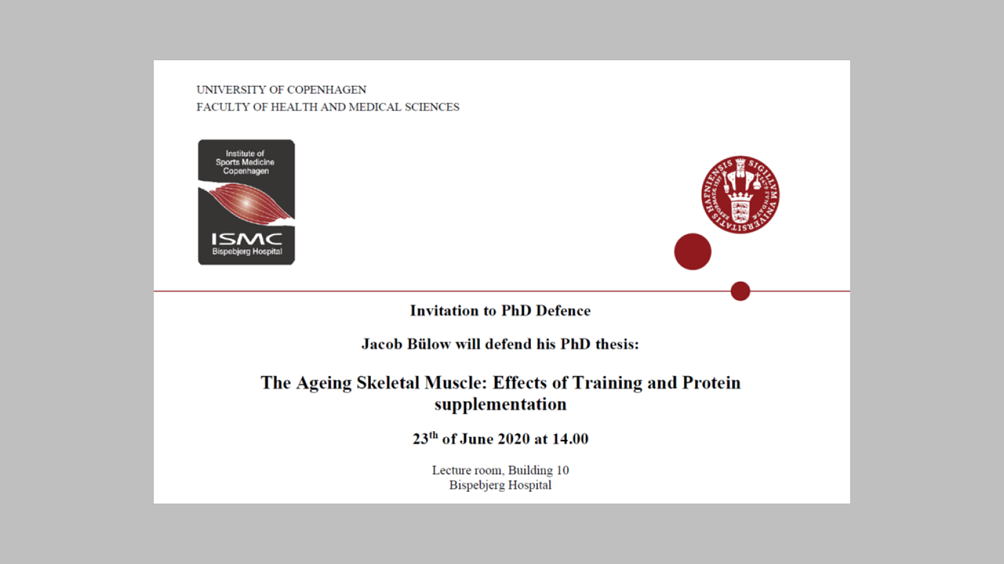 Jacob Bülow is defending his PhD thesis titled "The Ageing Skeletal Muscle: Effects of Training and Protein supplementation" on Tuesday June 23rd 2020.
Abstract:
The phenomenon of Sarcopenia, originally defined as the age-related loss of muscle mass, has gained interest across several different scientific disciplines within the last three decades due to its association to increased morbidity and mortality. Several different explanations as well as interventions to counteract the sarcopenic process has been suggested and investigated in both epidemiological and short-term interventions studies. Especially different types of exercise and increased daily protein intakes has been investigated as strategies with promising results in the pursuit of maintaining skeletal muscle mass with age. However, most of these studies have been highly controlled and of shorter duration hereby questioning whether or not these results would be rediscovered in more applied studies of longer duration. First, this thesis presents an analysis of the changes in the definition of Sarcopenia that has occurred since its introduction in 1989 and its consequences; Secondly, this thesis report different outcomes from the CALM study which is a large interdisciplinary study designed to investigate the effect of one-year of protein supplementation with or without different types of training in healthy older adults above 65 years of age. 208 healthy elderly above 65 years of age were randomized into one of following 5 groups: (CARB (20g of maltodextrin + 10g of sucrose) COLL (20g of collagen hydrolysate + 10g of sucrose) WHEY (20g of whey hydrolysate +10g of sucrose) LITW (Home-based light intensity training 3-5 times pr. week + the whey supplement) and HRTW (Center-based heavy resistance exercise 3 times pr. week+ the whey supplement). The participants were instructed to take the supplements twice daily at breakfast and lunch or in relation to their training sessions. The primary outcome in the CALM study were the cross-sectional area of the quadriceps muscle of the mid-thigh. Further, the effect of the different intervention on the glucose tolerance and body composition was evaluated. In a subgroup (n=66) of the 208 participants included, the effect of the intervention on the skeletal muscle protein synthesis in response to protein intake were also investigated. Lastly, we attempted to measure the skeletal muscle metabolome and exploratorily investigate the effect of the intervention. The current definitions of Sarcopenia due no longer cover the phenomenon of age-related loss of muscle mass but are now including the two partially depending phenomena of muscle strength and physical function. No scientifically acceptable argument for the change in definition is forwarded and the primary argument of clinical relevance is tautological. Therefore, we suggest a return to the original definition. We did not find any effect of one-year prolonged supplementation with proteins in comparison to an iso-caloric carbohydrate supplement with respect to the maintenance of skeletal muscle mass. The participants increased their body weight, fat% and HbA1c and no effect on the muscle protein synthesis nor the muscle metabolome were observed. One-year of prolonged heavy resistance exercise on top of protein supplementation had a minor effect on the maintenance of skeletal muscle mass in comparison to protein supplementation alone and home-based light load resistance exercise had no effect despite an observed higher adherence in comparison to the adherence in the heavy resistance exercise group. In conclusion, the findings across the different measurements presented in this thesis were consistent and provide strong evidence against further increases in recommended daily protein intake within healthy and active elderly. It provides solid evidence for making realistically estimates of the long-term effects of resistance exercise in combination with protein supplementation. Further, light load resistance training is not enough if gains in muscle mass and function are desired within this population of healthy and active elderly. The results from the acute trial suggest that the measurement of muscle protein synthesis without measuring breakdown is not a usable method for investigating muscle development over time. Lastly, our analysis platform for measuring the skeletal muscle metabolome showed promising results for future studies.
Scandinavian Sports Medicine Congress 2020
31. January 2020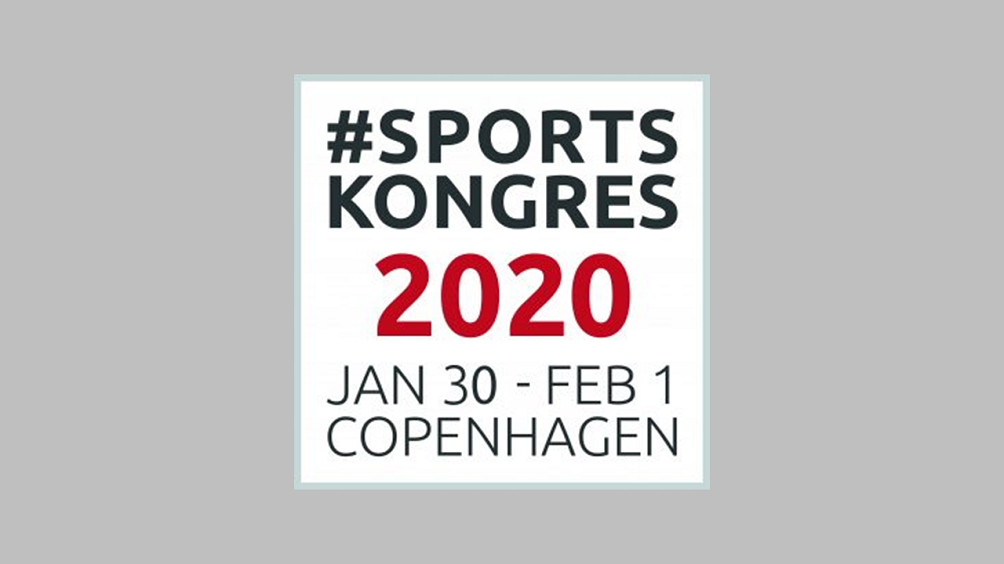 These days all the doctors from our out-patient clinic together with several of our senior researchers, postdocs and PhD students are attending the annual Scandinavian Sports Medicine Congress 2020, that takes place at Radisson Blu Scandinavia Hotel in Copenhagen. The congress is hosted by Danish Society of Sports Physical Therapy (DSSF) and the Danish Association of Sports Medicine (DIMS). Several sessions are chaired by or include speakers from ISMC, among which can mentioned postdoc Monika Bayer chairing two session; one titled "Imaging the tendon" that also features PhD student Nikolaj M.M. Clausen and senior researcher Christian Couppé as speakers, and one called "How inflamed is the tendinopathic tendon?" that also features Professor Michael Kjaer as a speaker. You can read more about the congress at their website https://www.sportskongres.dk/.
Elite athletes wanted for research project
28. January 2020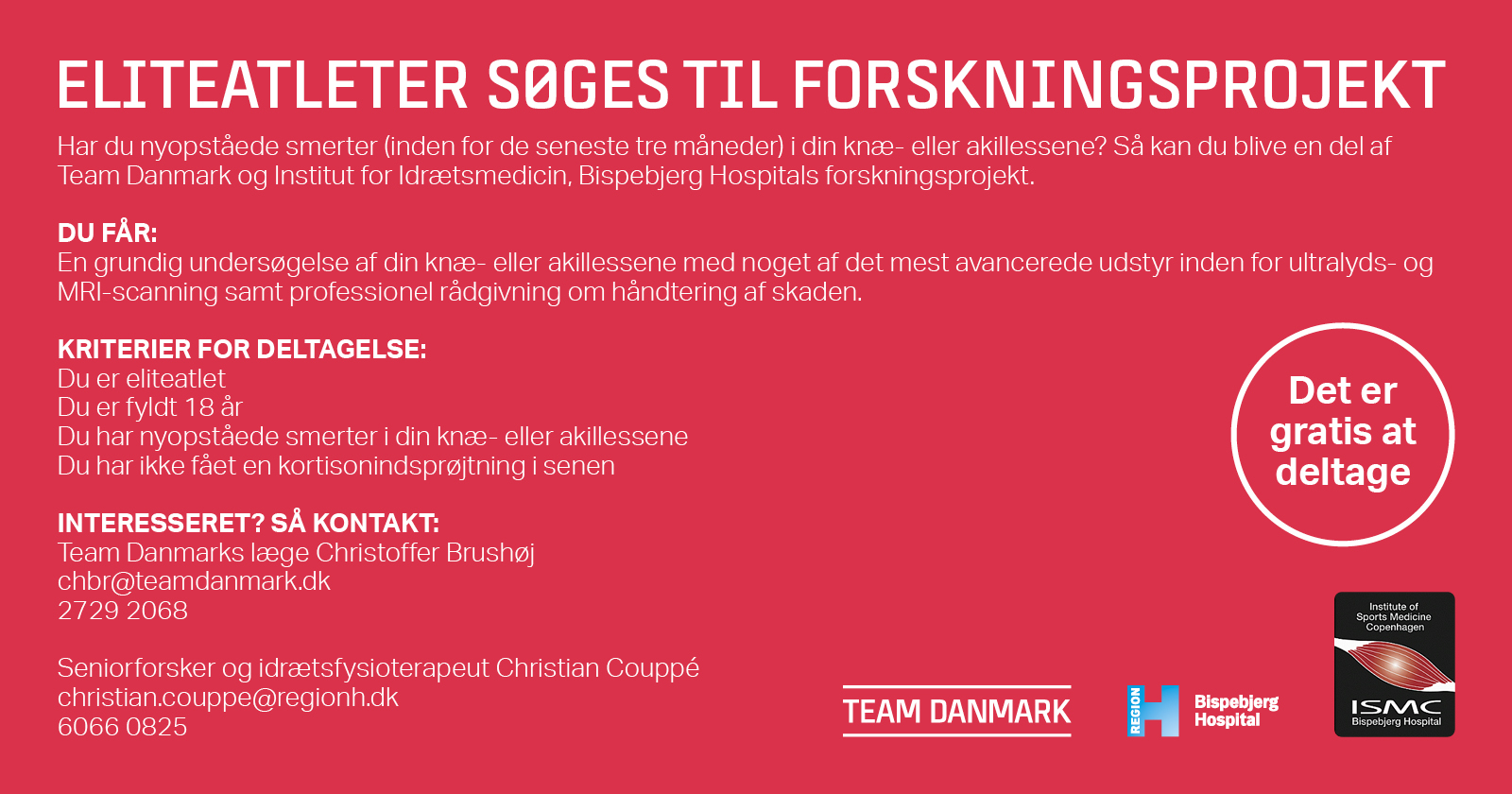 We are looking to recruit elite athletes with tendinopathy into a research project.
Peter Tran PhD Defense
15. January 2020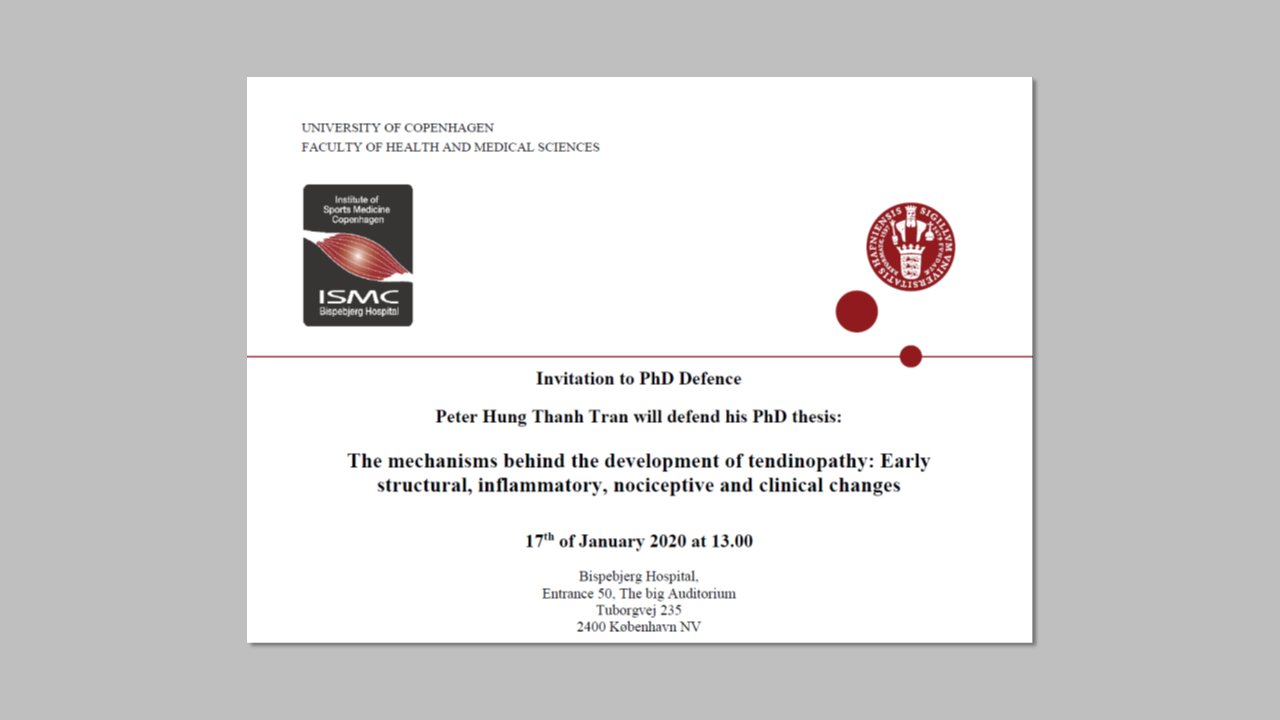 Peter Tran (MD) is defending his PhD thesis on Friday January 17th 2020 at 13.00. The thesis is titled "The mechanisms behind the development of tendinopathy: Early structural, inflammatory, nociceptive and clinical changes".
The aim of the work was to demonstrate the spatiotemporal distribution of pathological changes in early tendinopathy with focus on structure and tissue signaling. Active athletes with soreness in their Achilles or patella tendon within the last three months were included and examined by clinical assessment, questionnaires, ultrasound, blood samples, biomechanical tests, MRI (magnetic resonance imaging) and patella biopsies. They were divided into three groups based on the duration of their symptoms: 0-1 months, 1-2 months and 2-3 months, but all received same tests. Biopsies were analyzed by PCR for key regulators of inflammation, tissue remodeling and nociceptive substances.
It will be interesting to hear about the findings.
The winner of the Annual Symposium PhD Cup 2019 has been found
29. November 2019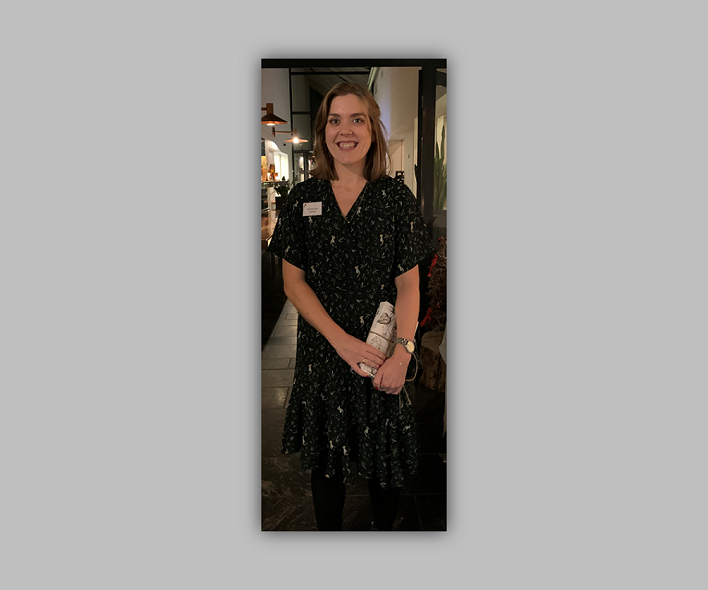 On Thursday November 28th 2019 the yearly PhD Cup during the Annual Symposium of the "Basic and Clinical Research in Musculo-skeletal Sciences" took place.
Karina Louise Skov Husted was announced as the winner with her project titled "A new approach to workplace health promotion: Body age assessment in 9851 Danish employees – a cohort study". Karina was chosen as the winner because she very convincingly explained how body age determination can help promote health-span increasing activities. In a large follow-up study activities which increases health-span was effectively increased, when the participants were informed about their body age.
Karina was chosen to participate in the PhD Cup based on her abstract:
Objectives: A discrepancy between the consensus that workplaces are an optimal setting for health promotion and the lack of clinical relevant effect exists. This study explores the effectiveness of body age assessment in workplace health promotion.
Methods: Body age tests were performed in 9851 Danish employees. Metabolic risk factors were assessed, body age score was determined and an individualized motivational interview was conducted at baseline and follow-up. The body age score is a composite score comprising 11 weighted variables.
Results: At baseline 70% (n=9852) participated, and 38% (n=3759) participated at follow-up. At 1.3 years follow-up the body age improved by a decline in mean body age score of -0.6 and -0.7 years for men and women, respectively (p<0.001) representative of an overall improvement in general health. 60% of the smokers had reduced their tobacco use and 41% had quitted smoking (p<0.001). Weight and waist circumference was reduced and cholesterol profile improved for both men and women.
Conclusions: Body age assessment was related to high participation rate, high impact on attenuation of tobacco use and small to moderate changes in metabolic risk factors.
Final program for the Annual Symposium 2019 in Snekkersten is available
27. November 2019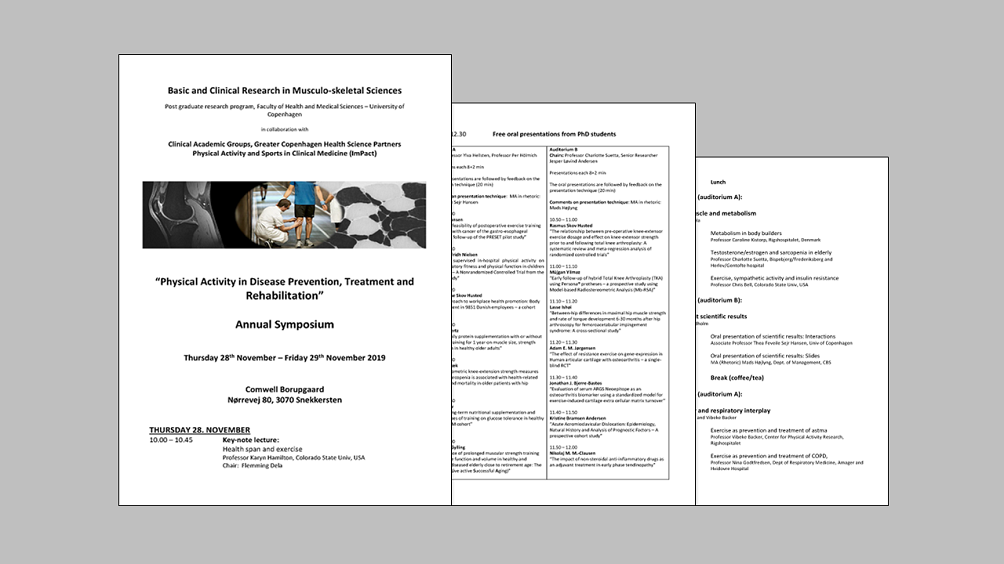 The final updated program for the Annual Symposium 2019 in Snekkersten is now available in the "Symposium" menu. This year we have 2 key-note lectures, 14 lectures, 25 oral presentations from PhD students, 7 posters for presentation and a total of 94 participants. We are looking forward to welcoming you all.
Grith Højfeldt PhD Defense
23. October 2019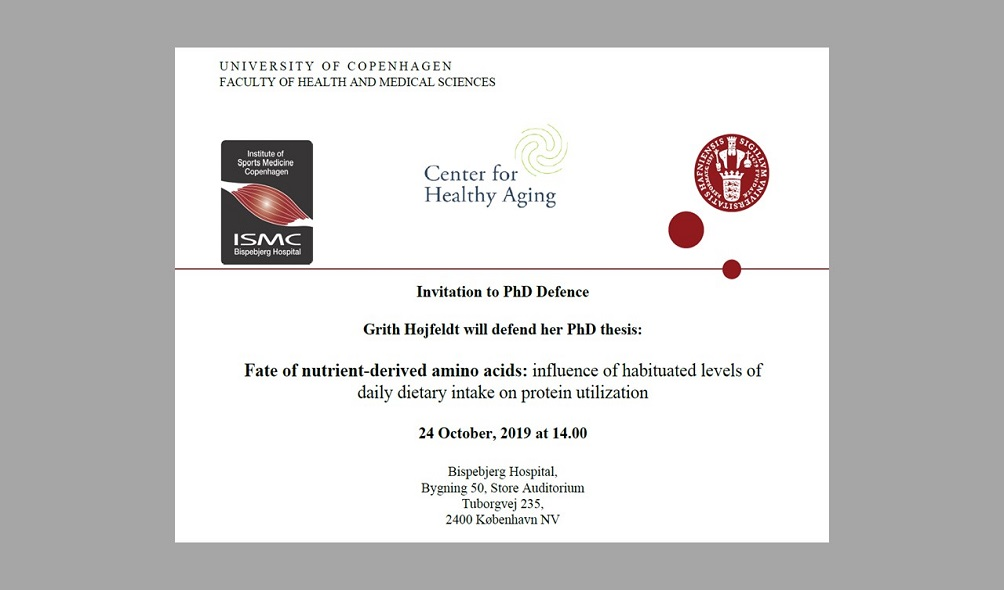 Grith Højfeldt is defending her PhD thesis titled "Fate of nutrient-derived amino acids: influence of habituated levels of daily dietary intake on protein utilization" on Thursday October 24th 2019.
New ISMC website
22. October 2019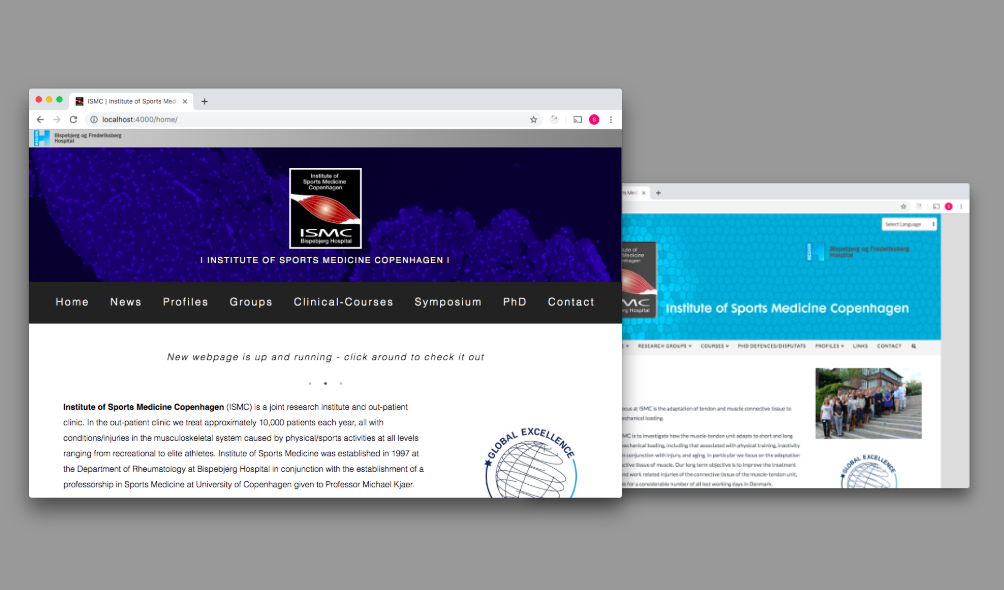 Our site ismc.dk has been relaunched with a new layout and some new features. You will still find some menus incomplete, but contents will be continuously expanded and updated as we get used to the new site.
One of the new features is this news feed, where you will find updates about upcoming PhD defenses, lectures, courses, new publications and other topics of interest. So, don't forget to stop by from time to time.