Provisional program for Snekkersten 2020
10. August 2020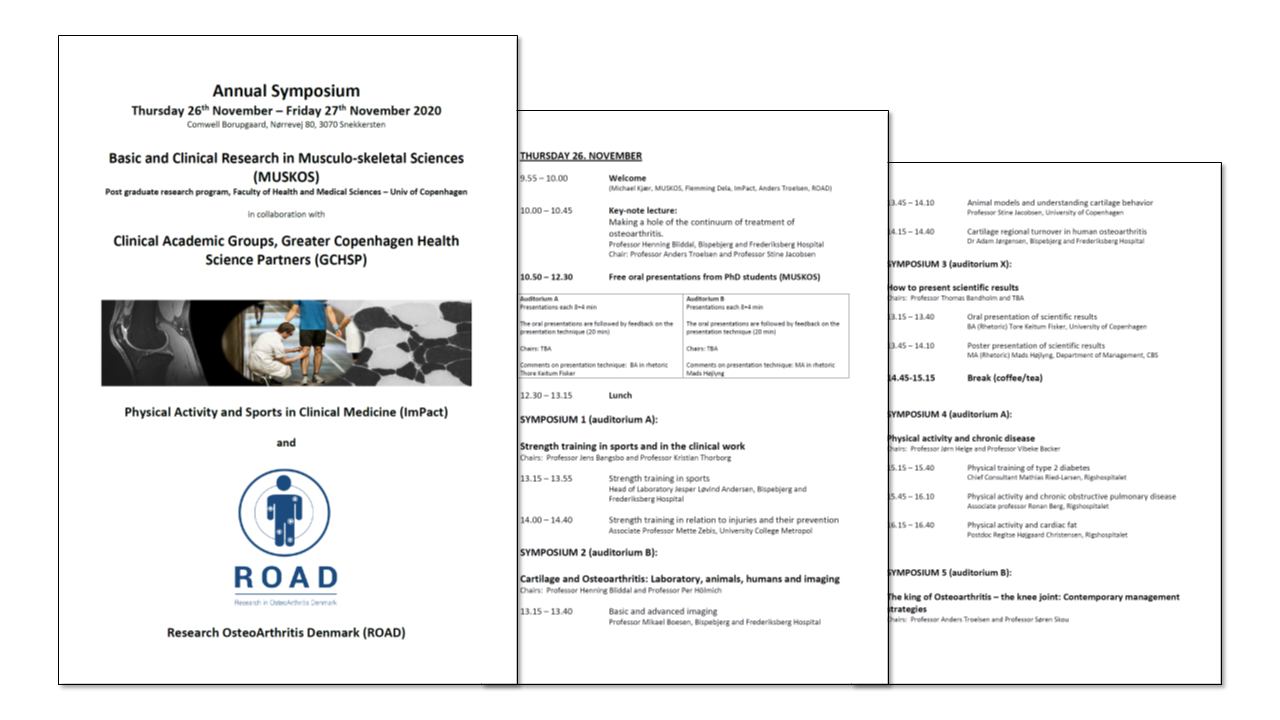 The provisional program for the Annual Symposium 2020 in Snekkersten is now available in the "Symposium" menu. Here you can also sign up to participate.
This year the symposium is held as a collaboration between MUSKOS and the two CAG's "imPact" and "ROAD".
Jacob Bülow PhD Defense
11. June 2020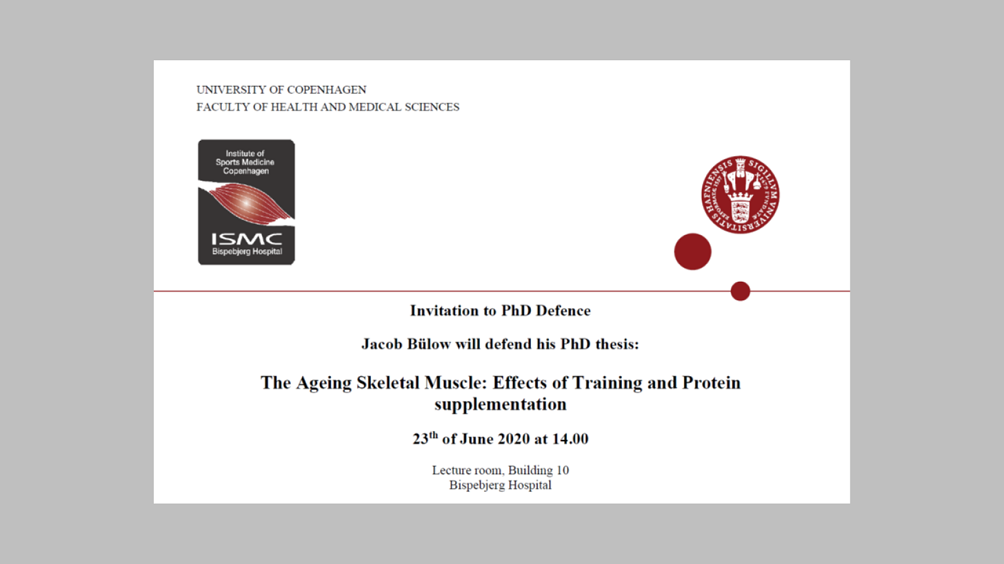 Jacob Bülow is defending his PhD thesis titled "The Ageing Skeletal Muscle: Effects of Training and Protein supplementation" on Tuesday June 23rd 2020.
Abstract:
The phenomenon of Sarcopenia, originally defined as the age-related loss of muscle mass, has gained interest across several different scientific disciplines within the last three decades due to its association to increased morbidity and mortality. Several different explanations as well as interventions to counteract the sarcopenic process has been suggested and investigated in both epidemiological and short-term interventions studies. Especially different types of exercise and increased daily protein intakes has been investigated as strategies with promising results in the pursuit of maintaining skeletal muscle mass with age. However, most of these studies have been highly controlled and of shorter duration hereby questioning whether or not these results would be rediscovered in more applied studies of longer duration. First, this thesis presents an analysis of the changes in the definition of Sarcopenia that has occurred since its introduction in 1989 and its consequences; Secondly, this thesis report different outcomes from the CALM study which is a large interdisciplinary study designed to investigate the effect of one-year of protein supplementation with or without different types of training in healthy older adults above 65 years of age. 208 healthy elderly above 65 years of age were randomized into one of following 5 groups: (CARB (20g of maltodextrin + 10g of sucrose) COLL (20g of collagen hydrolysate + 10g of sucrose) WHEY (20g of whey hydrolysate +10g of sucrose) LITW (Home-based light intensity training 3-5 times pr. week + the whey supplement) and HRTW (Center-based heavy resistance exercise 3 times pr. week+ the whey supplement). The participants were instructed to take the supplements twice daily at breakfast and lunch or in relation to their training sessions. The primary outcome in the CALM study were the cross-sectional area of the quadriceps muscle of the mid-thigh. Further, the effect of the different intervention on the glucose tolerance and body composition was evaluated. In a subgroup (n=66) of the 208 participants included, the effect of the intervention on the skeletal muscle protein synthesis in response to protein intake were also investigated. Lastly, we attempted to measure the skeletal muscle metabolome and exploratorily investigate the effect of the intervention. The current definitions of Sarcopenia due no longer cover the phenomenon of age-related loss of muscle mass but are now including the two partially depending phenomena of muscle strength and physical function. No scientifically acceptable argument for the change in definition is forwarded and the primary argument of clinical relevance is tautological. Therefore, we suggest a return to the original definition. We did not find any effect of one-year prolonged supplementation with proteins in comparison to an iso-caloric carbohydrate supplement with respect to the maintenance of skeletal muscle mass. The participants increased their body weight, fat% and HbA1c and no effect on the muscle protein synthesis nor the muscle metabolome were observed. One-year of prolonged heavy resistance exercise on top of protein supplementation had a minor effect on the maintenance of skeletal muscle mass in comparison to protein supplementation alone and home-based light load resistance exercise had no effect despite an observed higher adherence in comparison to the adherence in the heavy resistance exercise group. In conclusion, the findings across the different measurements presented in this thesis were consistent and provide strong evidence against further increases in recommended daily protein intake within healthy and active elderly. It provides solid evidence for making realistically estimates of the long-term effects of resistance exercise in combination with protein supplementation. Further, light load resistance training is not enough if gains in muscle mass and function are desired within this population of healthy and active elderly. The results from the acute trial suggest that the measurement of muscle protein synthesis without measuring breakdown is not a usable method for investigating muscle development over time. Lastly, our analysis platform for measuring the skeletal muscle metabolome showed promising results for future studies.
Scandinavian Sports Medicine Congress 2020
31. January 2020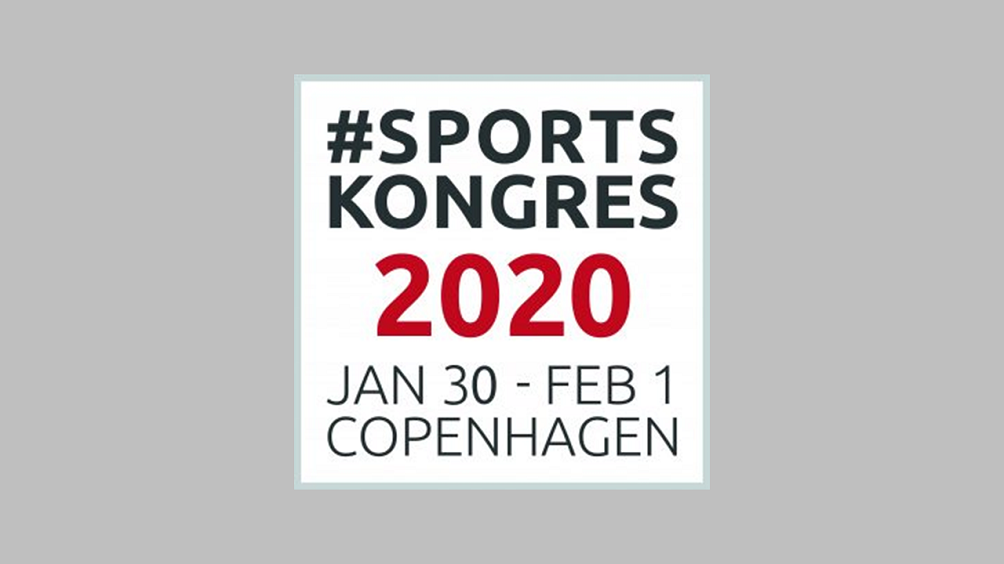 These days all the doctors from our out-patient clinic together with several of our senior researchers, postdocs and PhD students are attending the annual Scandinavian Sports Medicine Congress 2020, that takes place at Radisson Blu Scandinavia Hotel in Copenhagen. The congress is hosted by Danish Society of Sports Physical Therapy (DSSF) and the Danish Association of Sports Medicine (DIMS). Several sessions are chaired by or include speakers from ISMC, among which can mentioned postdoc Monika Bayer chairing two session; one titled "Imaging the tendon" that also features PhD student Nikolaj M.M. Clausen and senior researcher Christian Couppé as speakers, and one called "How inflamed is the tendinopathic tendon?" that also features Professor Michael Kjaer as a speaker. You can read more about the congress at their website https://www.sportskongres.dk/.
Elite athletes wanted for research project
28. January 2020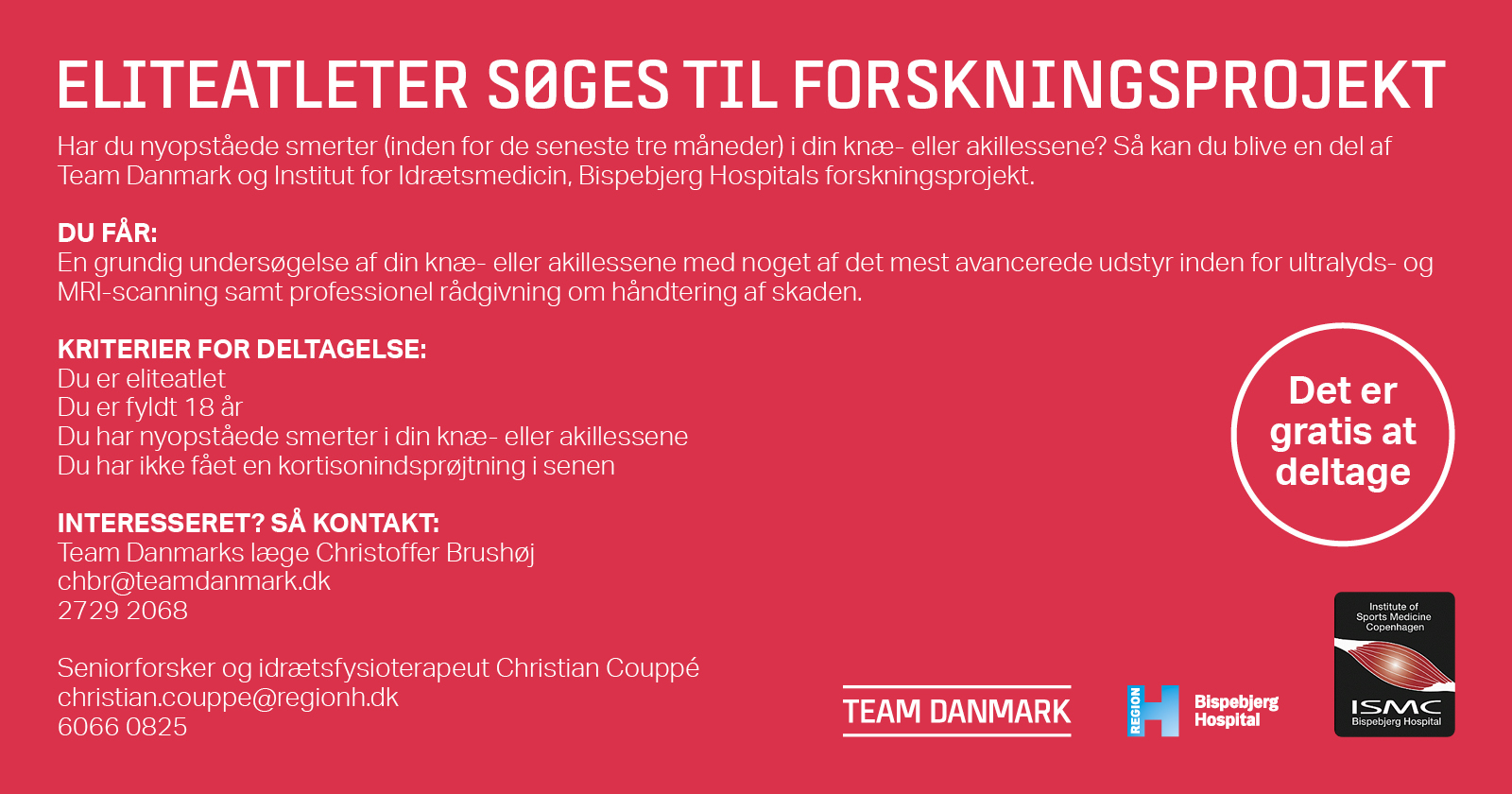 We are looking to recruit elite athletes with tendinopathy into a research project.
Peter Tran PhD Defense
15. January 2020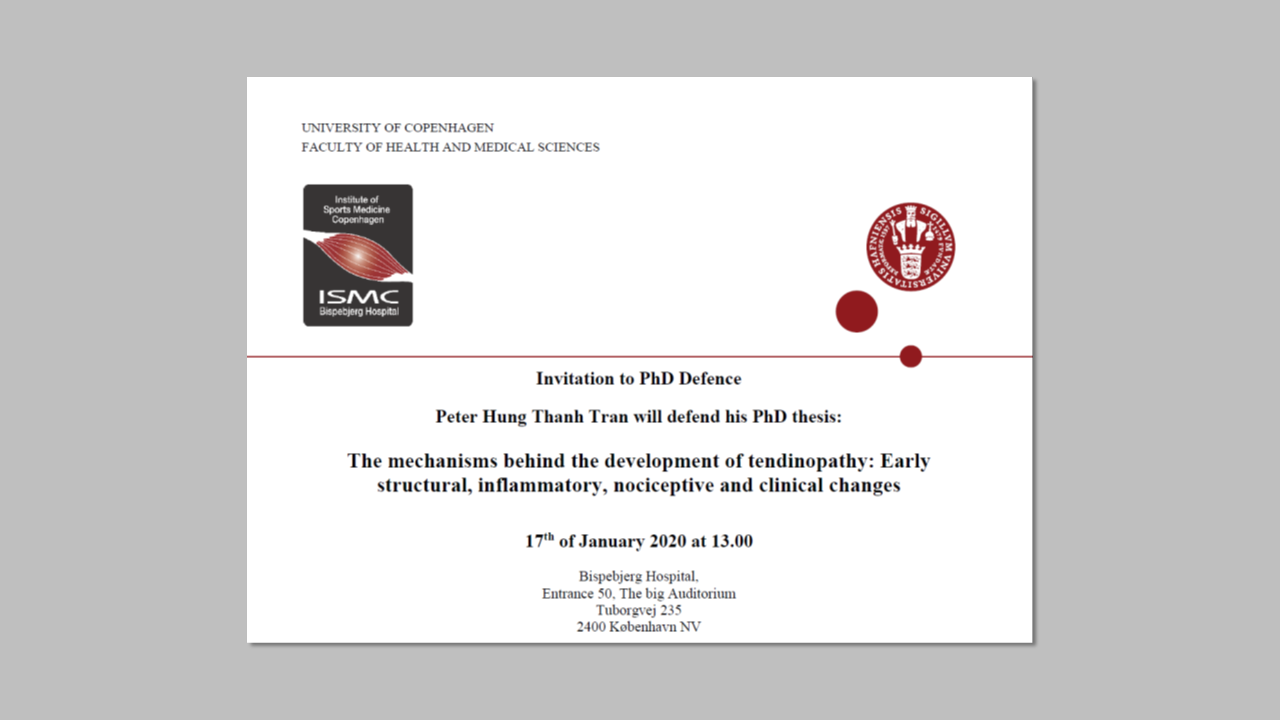 Peter Tran (MD) is defending his PhD thesis on Friday January 17th 2020 at 13.00. The thesis is titled "The mechanisms behind the development of tendinopathy: Early structural, inflammatory, nociceptive and clinical changes".
The aim of the work was to demonstrate the spatiotemporal distribution of pathological changes in early tendinopathy with focus on structure and tissue signaling. Active athletes with soreness in their Achilles or patella tendon within the last three months were included and examined by clinical assessment, questionnaires, ultrasound, blood samples, biomechanical tests, MRI (magnetic resonance imaging) and patella biopsies. They were divided into three groups based on the duration of their symptoms: 0-1 months, 1-2 months and 2-3 months, but all received same tests. Biopsies were analyzed by PCR for key regulators of inflammation, tissue remodeling and nociceptive substances.
It will be interesting to hear about the findings.
The winner of the Annual Symposium PhD Cup 2019 has been found
29. November 2019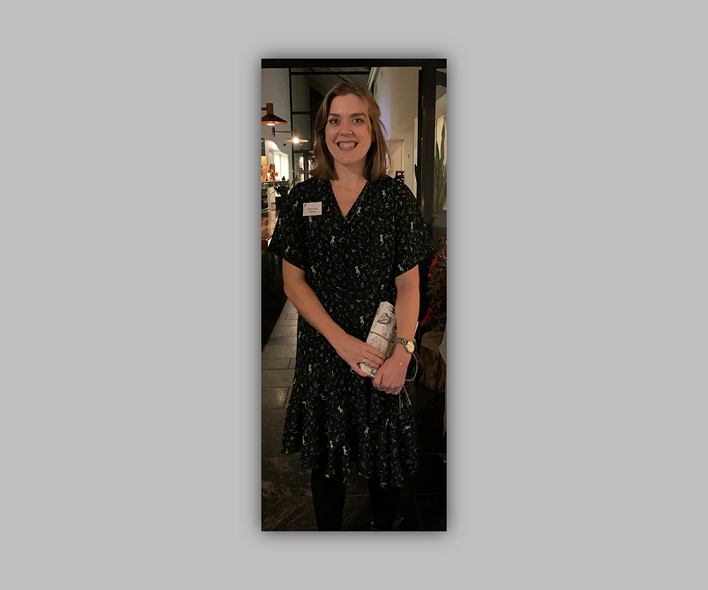 On Thursday November 28th 2019 the yearly PhD Cup during the Annual Symposium of the "Basic and Clinical Research in Musculo-skeletal Sciences" took place.
Karina Louise Skov Husted was announced as the winner with her project titled "A new approach to workplace health promotion: Body age assessment in 9851 Danish employees – a cohort study". Karina was chosen as the winner because she very convincingly explained how body age determination can help promote health-span increasing activities. In a large follow-up study activities which increases health-span was effectively increased, when the participants were informed about their body age.
Karina was chosen to participate in the PhD Cup based on her abstract:
Objectives: A discrepancy between the consensus that workplaces are an optimal setting for health promotion and the lack of clinical relevant effect exists. This study explores the effectiveness of body age assessment in workplace health promotion.
Methods: Body age tests were performed in 9851 Danish employees. Metabolic risk factors were assessed, body age score was determined and an individualized motivational interview was conducted at baseline and follow-up. The body age score is a composite score comprising 11 weighted variables.
Results: At baseline 70% (n=9852) participated, and 38% (n=3759) participated at follow-up. At 1.3 years follow-up the body age improved by a decline in mean body age score of -0.6 and -0.7 years for men and women, respectively (p<0.001) representative of an overall improvement in general health. 60% of the smokers had reduced their tobacco use and 41% had quitted smoking (p<0.001). Weight and waist circumference was reduced and cholesterol profile improved for both men and women.
Conclusions: Body age assessment was related to high participation rate, high impact on attenuation of tobacco use and small to moderate changes in metabolic risk factors.
Final program for the Annual Symposium 2019 in Snekkersten is available
27. November 2019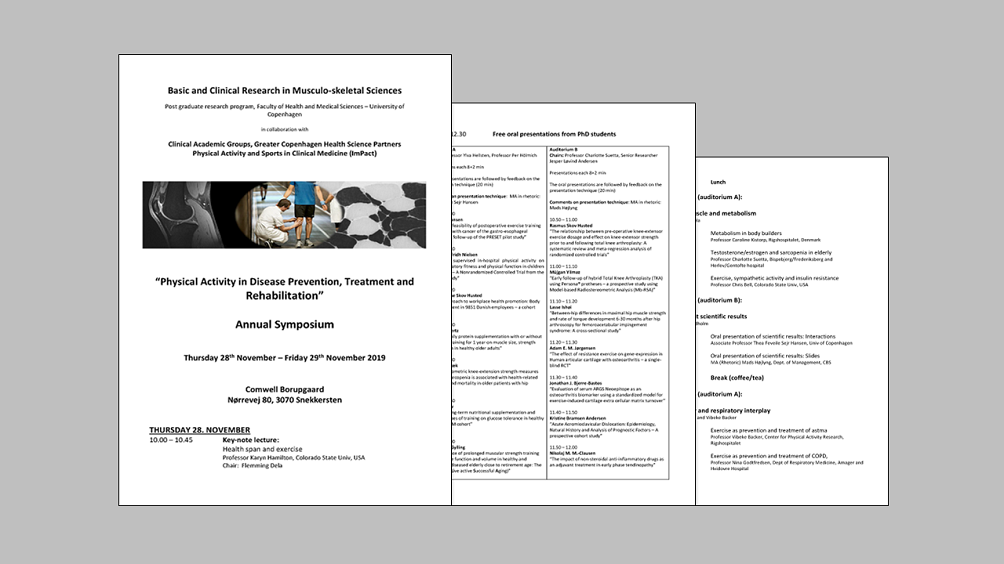 The final updated program for the Annual Symposium 2019 in Snekkersten is now available in the "Symposium" menu. This year we have 2 key-note lectures, 14 lectures, 25 oral presentations from PhD students, 7 posters for presentation and a total of 94 participants. We are looking forward to welcoming you all.
Grith Højfeldt PhD Defense
23. October 2019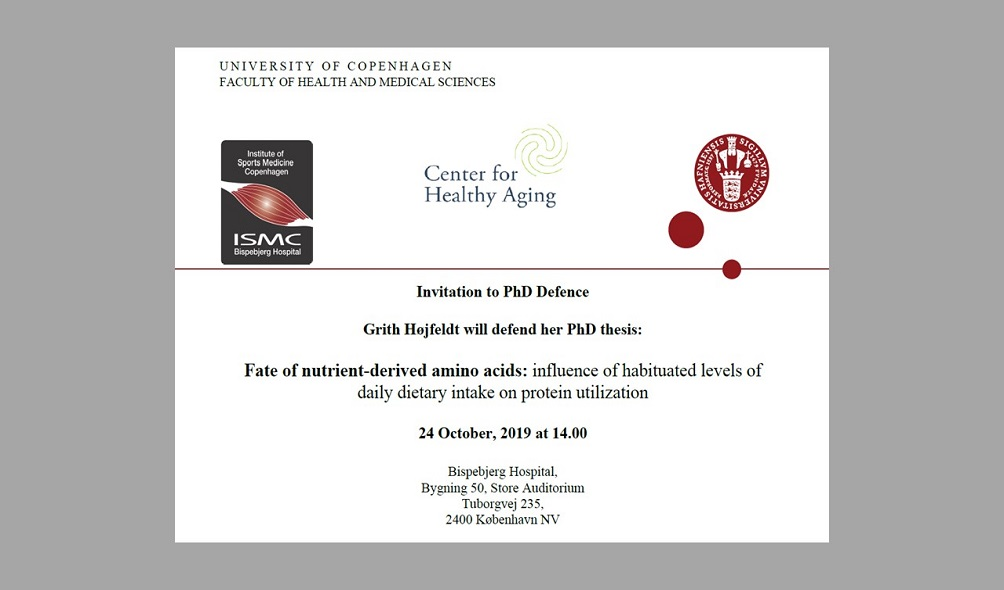 Grith Højfeldt is defending her PhD thesis titled "Fate of nutrient-derived amino acids: influence of habituated levels of daily dietary intake on protein utilization" on Thursday October 24th 2019.
New ISMC website
22. October 2019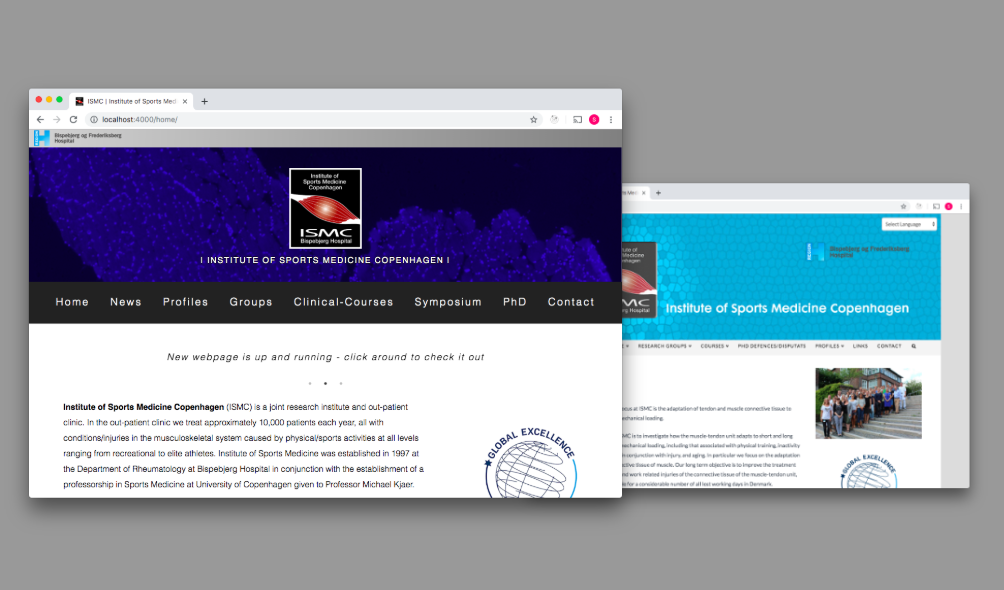 Our site ismc.dk has been relaunched with a new layout and some new features. You will still find some menus incomplete, but contents will be continuously expanded and updated as we get used to the new site.
One of the new features is this news feed, where you will find updates about upcoming PhD defenses, lectures, courses, new publications and other topics of interest. So, don't forget to stop by from time to time.